MEETING ROOMS – WORKSPACE – EVENT SPACE FOR RENT
BLUE MEETING ROOM
Meeting room or private workspace
Seats 4-5 people
2 whiteboards
TV/monitor w/ HDMI
2 windows with abundant natural light
$15 / hour for Hera Hub members
$25 / hour for non-members
Members may book 24/7
Non-members
M-F 9am-5pm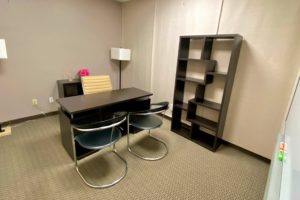 TAUPE OFFICE
Private office or meeting room
Large whiteboard
Acoustic foam panels ideal for podcasts and recordings
$15 / hour for Hera Hub members
$25 / hour for non-members
15% discount when booking 8+ hours
Members may book 24/7
Non-members M-F 9am-5pm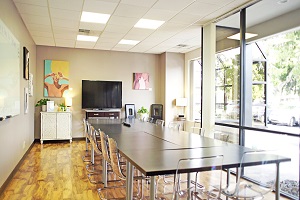 CONFERENCE ROOM
Tables can be configured boardroom or classroom style
Seats 18 people boardroom style
TV w/ HDMI cord
Whiteboard
$30 / hour for Hera Hub members
$50 / hour for non-members
Members may book 24/7
Non-members M-F 9am-5pm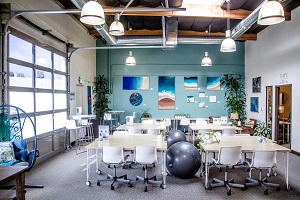 EVENT SPACE
Approx. 900 sq. ft. with easily configured tables and chairs
65 people standing / 40 people seated
Includes bonus seating/serving area
Audio system available
Whiteboard
2 fully-functioning garage doors
$75 / hour members
$125 / hour non-members (2 hour min)
Available M-F 5:30pm-9:00pm and weekends
Full day discounts available
READY TO RESERVE YOUR PRIVATE SPACE AT HERA HUB CARLSBAD?
Room Availability for Hera Hub Carlsbad
All room bookings include wi-fi, coffee, tea, water, and full kitchen access. Conference room and event space rentals have access to smart TV or projector/screen. You may bring in outside food/beverage provided you clean up after yourself. See more images of the space.
January

2022

Sun
Mon
Tue
Wed
Thu
Fri
Sat

3

CB Blue Meeting Room - Jacqueline Rossow

•

4

CB Blue Meeting Room - Naomi Arana

CB Taupe Office - Kristin Wertz

CB Blue Meeting Room - Amanda De La Vega

CB Blue Meeting Room - Amanda De La Vega

CB Conference Room - Marisa Benedict

• • • • •

7

CB Blue Meeting Room - Katie D'Amato

•

11

CB Blue Meeting Room - Dean A Gonsowski

CB Taupe Office - Kristin Wertz

• •

12

CB Blue Meeting Room - Dean A Gonsowski

CB Taupe Office - Mary Lou Rodgers

CB Taupe Office - Jacqueline Rossow

CB Conference Room - Valerie A. Grant

• • • •

16

CB Event Space - Vihil H. Vigil

•

17

CB Blue Meeting Room - Jacqueline Rossow

•

18

CB Conference Room - Marisa Benedict

•

20

CB Blue Meeting Room - Danielle Wakefield

•

21

CB Blue Meeting Room - N/A

•

22

CB Conference Room - Admin

•

24

CB Taupe Office - Lynn Fulks

CB Conference Room - Danielle Wakefield

CB Blue Meeting Room - Jacqueline Rossow

• • •

25

CB Conference Room - Adrianne Luban

•

27

CB Blue Meeting Room - Danielle Wakefield

•

31

CB Blue Meeting Room - Jacqueline Rossow

•
"I had a meeting at Hera Hub this morning with a new client – a frazzled young mother. She sat down in the well-appointed meeting room with a cup of fresh coffee, took a deep breath, looked around, and said "Oh my gosh, this feels like a day at the spa." Hera Hub has created a beautiful and productive space for their members – AND their clients. Membership at Hera Hub has been a great benefit to me, and my care management business."
"This is a GORGEOUS, inviting, holistic, professional, classy and action/results-oriented haven perfect for collaboration, connection, inspiration and events. We did an evening event here and could not be more impressed with the quality of resources, attention to detail and overall positive vibe. GOOD THINGS are happening at Hera Hub."