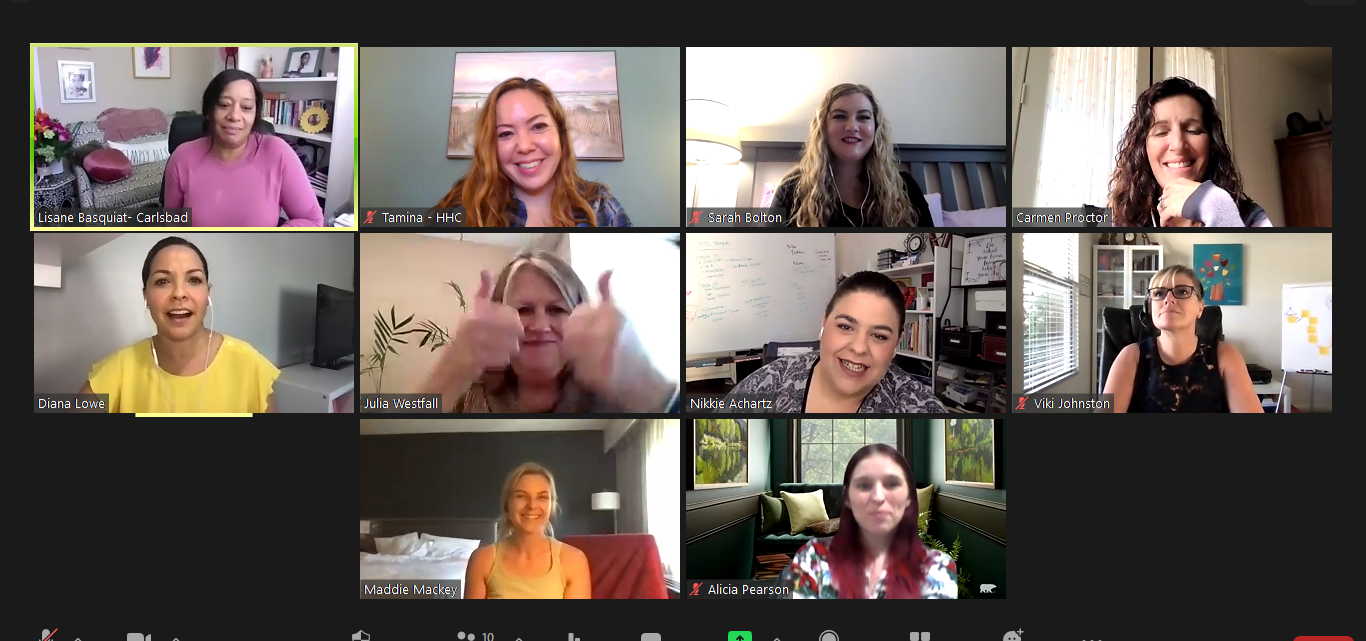 Sub-Hubs are global, member-led, affinity groups, which meet regularly to share resources and support one another. Some Sub-Hubs are industry-specific, others have risen from common interests or goals, while others are based on the phase of business shared by the members. Each Sub-Hub has a private Facebook group for the sharing of resources, discussion, and events. The members of each group decide upon the format and structure of the virtual meetings. New members are always welcome, as are suggestions for new Sub-Hubs.  Email info@herahub.com with questions or to be added to any of the groups.
For members who are seeking support and accountability in bringing in business, making sales and closing deals. Biweekly meetings take place in a hybrid mastermind/accountability roundtable discussion.
Meetings: 1st & 3rd Mondays, 10-11am PT. (Facilitated by Tamina Madsen, Hera Hub Carlsbad)
Supporting members in marketing-related fields as well as those who are focused on marketing their own businesses. Meetings are twice a month. The first meeting monthly is a Focused Marketing Discussion, which members will take turns leading on various marketing-related topics. During this roundtable discussion, members are encouraged to provide tips, ask questions, or share ideas related to the week's theme.
Meetings: 2nd Tuesday, 10-11am PT. (Facilitated by Felena Hanson, Hera Hub Mission Valley)
For members who have made (or are making) the transition from solo-preneur to team leader for their businesses. Being a team leader whose goal it is to work ON rather than IN the business comes with an entirely new set of challenges and required skills. This Sub-Hub is also open to members who are actively striving to scale their business and begin hiring contractors or employees. Members meet monthly to share ideas, support, and educate each other on the path to becoming true CEOs of their businesses through member-hosted presentations and discussions.
Meetings: 3rd Thursday, 11am-12pm PT. (Facilitated by Tamina Madsen, Hera Hub Carlsbad)
For members who are consultants selling into larger companies, organizations, or nonprofits. Members share resources around team building, finding new contract opportunities, the RFP process, how to price services, and much, much more.
Meetings: 3rd Tuesday, 12-1pm PT. (Facilitated by Julia Westfall, Hera Hub DC)
A safe space for members to practice public speaking and develop the mindset, skill set, and habits to boost their communication confidence so they can speak with power and impact and move people to take action whenever they speak. Members meet monthly for a mix of coaching, training, role play, and small and full group conversation. Welcome to any member who wants to use speaking to grow their business on stage or virtually.
Meetings: 2nd Tuesday, 11am-12pm PT. (Facilitated by Darlene Hawley & Alisha Wilkins, Hera Hub Temecula)
For members who work with individuals in a coaching, guidance, or in a teaching capacity. Common challenges exist regardless of the type of coach, including lead generation, client management, marketing, bookkeeping, group instruction, program development, etc. Monthly meetings consist of a brief presentation followed by masterminding of members' challenge areas.
Meetings: 3rd Wednesday, 10-11am PT. (Facilitated by Lisane Basquiat, Hera Hub Carlsbad)
For members who could use some accountability in getting their monthly books in order, reviewing their P&L and balance sheet. We will also tackle things like monthly cash flow and using your financials to make decisions – when can I hire, when should I be investing back into my business. The goal is to share best practices, resources, and support each other in running a prosperous business.
Meetings: 3rd Thursday, 9-10am PT. (Facilitated by Felena Hanson, Hera Hub Mission Valley)
For members who work in nonprofits, with nonprofits, or around nonprofits. This Sub-Hub provides a space to chat and meet with others involved in the nonprofit sector. It is an opportunity to exchange resources, discuss best practices, and make referrals when the time is right.
Meetings: 2nd Wednesday, 9:30-10:30am PT. (Facilitated by Tamina Madsen, Hera Hub Carlsbad)
This is for all Hera Hub members who are in the legal field and are looking to grow their network.  We have members in all sectors of law, from estate-planning, family, license defense, business transaction, and intellectual property. We also have paralegals and support services for attorneys.
Meetings: Quarterly (Facilitated by Felena Hanson, Hera Hub Mission Valley)
Coming soon… Social Impact Sub-Hub