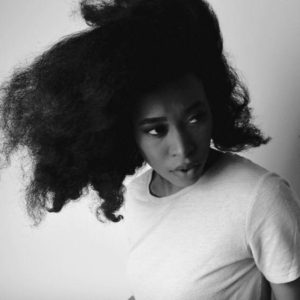 I'm a small-town country girl from Alabama who "got out" by serving in the United States Navy. I served for over a decade in Virginia, and have now been a San Diegan for 13 years. Along my journey, I have come to realize the importance in finding my passions and living out my desires as an entrepreneur. San Diego has nurtured both my creative and my entrepreneurial mindset tremendously through all of the networking opportunities, events, and hospitality from locals. Closed mouths don't get feed or and they definitely don't get heard. Putting myself out there – both in-person and virtually – has opened doors and expanded my opportunities.
My art career actually started back in 2006, where I studied film photography. My first real painting experience was actually in 2014. I cannot quite recall what influenced me to try painting but I can remember stocking up on some paint supplies, coming home covering the wall in plastic and mounting a 16×20 canvas to the wall. Short on paint utensils, I remember grabbing a plastic spatula from the kitchen to apply my paint to the canvas. Layer after layer, splatter after splatter, slinging and throwing paint until it turned to mud. Literally, my canvas was brown and clumps of paint ran off the canvas and down the plastic. It was not the most pleasant site, but I recall that it felt good. I continued to practice. Canvas after canvas, it slowly came together, to the point where I was confident enough to share one of my pieces on Facebook. The response was overwhelmingly positive. I became a more driven and self-inspired, not so much on selling my art but to have my work available for people to feel something when they see it.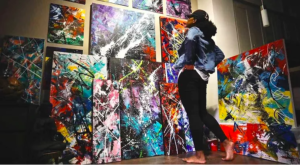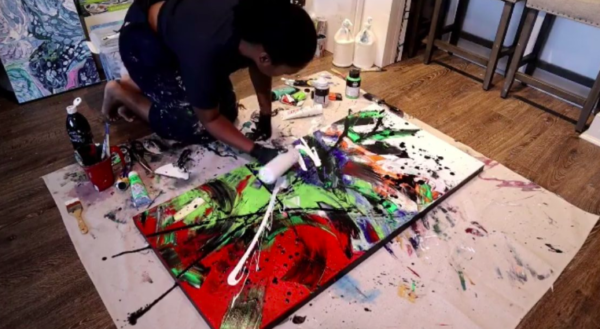 Fastforward several years later, as an Abstract Expressionist, I create artwork within the acrylic paint medium and digital medium. My collections include a combination of chaotic brush strokes and my signature paint splatter, as well as contemporary art utilizing fluid paint medium. My art inspiration is backed by music, ranging from jazz to alternative rock. I find it liberating to perform as an air guitarist before I paint – I love to feel free before creating.
In addition to my art, I am the CEO and Content Creator of Shavanda Chanté Imaging Studios LLC, specializing in professional photography, cinematography, videography, and brand imaging solutions to businesses. I am also collaborating with Fidelitas Development here in San Diego, CA as the Lion Share Marketing Podcast Editor. Having my work hung at Hera Hub Carlsbad has been an amazing opportunity to focus on both my creative and entrepreneurial sides, and I'm thrilled about the opportunity I've been given to tap into this community of female business owners!