Be transparent about expectations & deliverables
It's important to be transparent with your supervisor when it comes to your availability. Be clear with your best times for accomplishing work tasks or your availability for meetings. This will help reduce the frustration of unmet deadlines and/or expectations between managers and employees.
Stay connected
Find a way to stay connected with your team. It's easy to get buried in a black hole of work and forget about the world around us. Take some time to share goals and successes from the week. Don't forget about the water cooler talk, everyone needs a break from the daily grind. Create a space where your team can come for a laugh or just some adult interaction. Some good apps for internal messaging are Slack, Teams, etc.
Meet face to face
Video chats are no longer a thing of the future but the reality of today. Although it may be difficult to meet in person it's important to still be able to meet face to face (or shall we say screen to screen) whether with a team member or client. Being able to see facial expressions and read emotions is key to staying connected and communicating successfully.
Make a schedule
Write out a work schedule. Include a start time, breaks, lunch time and end time. Set an expectation and plan for yourself and how you plan to accomplish your tasks. · Although you may not be able to stick to your schedule down to the minute, flexibility will still be necessary, it helps to have a plan of attack.
Designate a workspace
Designate a place where you can setup a workspace. It's important to keep the places used for family dinner or relaxing & binge-watching Netflix separate from where you work. This creates a mental cue that tells you it's play time or it's get into work mode. You can also check out local coworking spaces. Hera Hub Carlsbad has been a source of community, inspiration, and productivity for Founder of Big Pic Results Jessica Hornbeck.
Set boundaries to help maintain work-life balance
With a workspace constantly in sight and the ding of incoming emails in your ear it's hard to draw a line between your workday and leisure time to rest and rejuvenate. It might help to set an alarm to close your computer and even turn off notifications on your mobile device at the end of the day. However that works best for you, a mental break is necessary for quality output and to prevent burnout.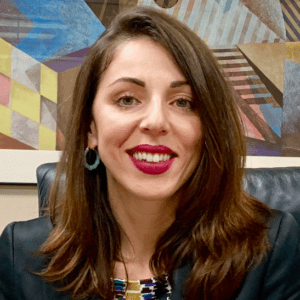 Jessica Hornbeck is the founder of Big Picture Results. She is a seasoned and spirited entrepreneur with over twenty years' experience navigating corporate, nonprofit and small business organizations with such fervor that she has been able to boil down lessons learned into a thoughtful and easy-to-grasp approach that has created value add for her clients, team, and community. A "big picture thinker," Jessica thrives on working with business owners to build financial systems and workflow foundations to help them do more with less; maximize their limited time; and grow both their income and freedom. Jessica holds a Bachelor of Science from Manhattan College in Economics/Finance, and a Masters in Business from New York University specializing in Strategy/Corporate Finance/Entrepreneurship. She is also the Financial Systems & Workflow for Small Business GURU at Hera Hub Carlsbad. Visit our calendar to schedule your free one-on-one appointment with Jessica.