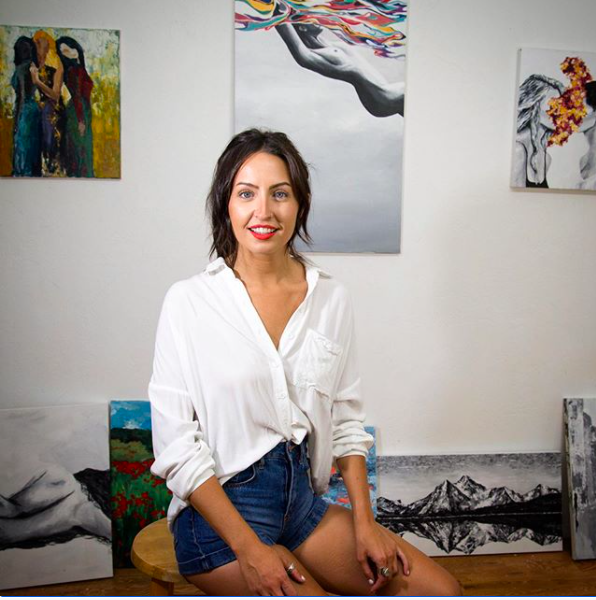 I am a self-taught artist based in San Diego. Having grown up in Boise, Idaho with five sisters and numerous female role models, I find inspiration from the power of nature, emotion and femininity. Art drives me. I am able to find identity in the power of human emotion. I express human emotion through visual representations found in nature and femininity. Emotion is diverse. It is bold, yet vulnerable; it illuminates, and conceals; it constructs, it withers; rages, soothes. Despite all of its individual characteristics, the truest form of emotion is found during a coalescence of them all. These are the moments I attempt to capture and portray through my art.
I currently work with acrylic paint to produce portraits and landscapes. My focus at this time is expressionistic landscapes, as well as surreal female portraits and figures, often covering the face of my subjects with symbolic imagery. My work is highly emotional. I had a mostly happy childhood, but I was also pulled through multiple divorces. I was affected by anger, depression and addiction that I witnessed. Luckily, my parents both taught me the power of honest expression of emotion. In my family, we talked. We were open with each other. We asked for help and sometimes we were confrontational. My emotions were often bubbling at the surface, and I was reassured that this was a positive thing. Over the years, I've learned a lot of lessons on how to communicate my emotions effectively with others.
These communication skills have translated directly into my artwork. Through my art, emotion and imagery resonates with the viewer. Many of my pieces are personal, but they also seek to connect with others. I believe empathy can change the world, and when my work can speak to two very different humans, can tug at the same strings of two hearts and souls, that is what I am most proud of accomplishing.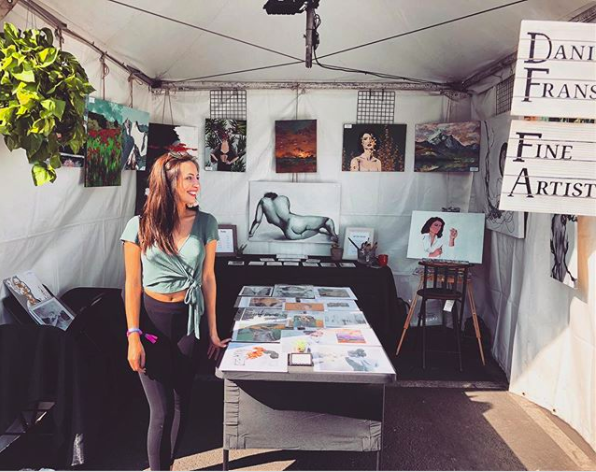 I have had a passion for art ever since I won my first art competition in the first grade. However, it has been a slow and gradual transition of turning my passion into my career. Because I did not major in art in college, I feel I've missed valuable opportunities for resources and connections to the art world. Painting is easy; I am in my element while I paint. But once I finish a piece, it gets complicated. Marketing, collaborations, permits and licenses, taxes… I'm learning how to run a business on my own. Thank goodness for the internet, mentorships, and of course Hera Hub! Having my art on display at Hera Hub Carlsbad has given me exposure to other female creatives and entrepreneurs who are building their own businesses and supporting each other along the way.
View Danielle's art at Hera Hub Carlsbad and contact our Art Curator for purchasing inquiries.
https://www.daniellefransartist.com/
https://www.instagram.com/dani.frans.artist/