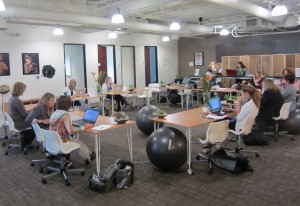 Hera Hub membership doesn't just mean having access to a collaborative, serene and productive workspace; you also become part of a community of like-minded ambitious women who are moving their dreams forward. In addition you'll gain exclusive access to member-only events, extra exposure and unique networking opportunities.
A Hera Hub membership is:

Flexible. All of our plans are month-to-month so you're never locked down.
All-inclusive. No nickel-and-diming here! Internet, printing, coffee, tea and snacks are provided at each location.
Access to a community of amazing women. No more hunting for that perfect person to collaborate with on a big project because they are most likely sitting next to you. This shared workspace means creativity and productivity thrive here.
Apply for Membership | Ask a Question | Virtual Tour & Photos | Members – Request to Change Plan

DETAILS
We're excited to have you as part of the Hera Hub community. Here are some things you should know before you get started:
There are no application or initiation fees.
All membership packages are month-to-month and require auto-debit.
There is a 30 day cancellation or package change requirement.
Hera Hub is open 9am – 5pm Monday through Friday. After-hours co-working may be arranged on an individual basis.
Memberships are non-transferable and may not be shared.
All members must adhere to the Hera Hub membership agreement.
Check out the following pages to read about the Online Promotion Package and Intern Strategy Coaching.