Recently I spoke with Lynda T. C. Peralta, Founder of The Pocket Palette, about her successful Kickstarter campaign on our #UpandOver Facebook Live series.
The Pocket Palette is a single-use make-up kit for those of us on the go. Lynda needed to raise money for her first round of manufacturing and was also looking to find market validation for potential future investors.
Twelve days before the end of her Kickstarter campaign, they still had a way to go to raise the $55,000 they needed.
So how did they do it?
They decided not to give up and push harder.
They reworked their content to be more authentic to who they are as founders so their supporters could feel a real connection.
They enlisted the support of their community and everyone rose to the occasion.
To hear their story directly from Lynda, watch the video below.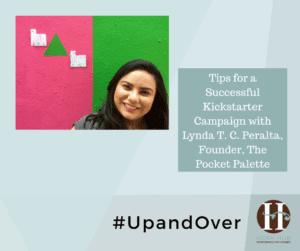 Delighted to have Lynda and Tiare part of our community!