Arion Long, Founder of Femly, won our inaugural Hera Fast Pitch DC event in June 2018. In addition to over $15,000 in cash and in-kind prizes, she won the opportunity to pitch at the 5th Annual Hera Venture Summit in San Diego.
Arion joined a list of six other finalists from other competitions – the Phoenix Hera Fast Pitch, the San Diego Hera Fast Pitch, the EO.OC GSEA Pitch, the Next Wave Impact Social Impact Startup Competition, the San Diego Startup Week Pedi Cab Pitch and the San Diego Startup Week Founder Fight RU Pitch.
Instead of following the typical model for a pitch competition, the Summit used this opportunity to educate the audience by having them participate in a Fast Due Diligence component and by providing them an opportunity to "fund" businesses as they saw fit.
Once the pitches were completed, the audience broke into teams and each team was given due diligence checklists and information about each startup. They also received $1M in monopoly money and decided on which startup they wanted to fund. After some decision making, the teams "funded" their startup(s). The pitch winner was selected by a count of how much monopoly money they "raised."
We were delighted when Arion was announced the winner!
Please take a look at our short video below to learn more about her journey.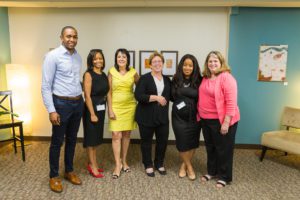 Photo credit: Tamzin B. Smith Portrait Photography