An audience of entrepreneurial women, some prospective and others established, congregated in Hera Hub's serene co-working space waiting to hear from Iris Krasnow, the esteemed speaker chosen for the first power talk event. Sneaking glances at the dozens of women around me, all in different stages of their personal and professional journeys, I couldn't help but notice that I was the youngest. While I felt a little out of place at first, I was quickly relieved of the apprehension. The event was conducive to Hera Hub's mission to create a community of women connecting and supporting each other—the attendees mingled fervently right up until their peer, and my professor, was ready to begin.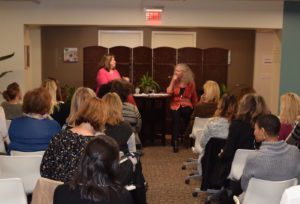 All eyes shifted towards Krasnow, who took time away from teaching journalism at American University and writing bestselling books to impart some wisdom to her fellow Hera Hub members. The topic of interest was lifestyle issues, particularly personal growth and relationships. Krasnow's message was clear: look inward for fulfillment and build a network of close relationships. The dialogue contained anecdotes about husbands and children, and despite my status as a college student, I connected with Krasnow's journey and those of the women who shared their stories.
Krasnow's words were riddled with pearls of knowledge gained from years of experience as a mother, daughter, sister, wife, friend and teacher. In particular, she shared her thoughts on arguing with family members: "love the people in your life even when you loathe them." While she recognized that it's toxic to stay in contact with certain people, like those who detract from our self-worth, she promoted mending relationships with those who matter. She emphasized the fragility of life saying, "you can't say you're sorry at a funeral." This idea impacted me because as most of us do, I fight with my mother and sister sometimes. Krasnow's remarks made me realize that family is too important for stubbornness; to preserve the relationship, I need to learn to apologize…even when I, like, didn't even do anything wrong. Krasnow astutely called her siblings her "history-holders," which is a noteworthy epithet: the people who have been in our lives the longest understand us, and being understood is a feeling that we all crave.
One of the most powerful parts of this experience can be attributed to each woman in the audience who raised her hand to ask a question, voicing a vulnerability, allowing the rest of us to peer into her life. To see that accomplished women with decades of experience still need to reach out for help gave me insight into adulthood. No one has it all figured out—except maybe Iris Krasnow—and we can all learn from each other. As the event came to an end and new friends hugged each other goodbye, lingering thoughts swirled around in my mind. I am responsible for my own happiness. My community is my foundation. I'm not so different from the successful women I look up to.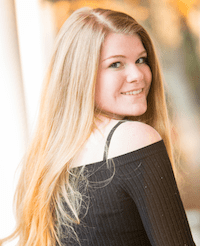 Molly McGourty brings her literary background and interest in women's issues to her internship at Hera Hub DC. She is a sophomore at Skidmore College where she studies Psychology and pursues her extracurricular theater passion. While she is originally from Boston, MA and attends college in Saratoga Springs, NY, she is spending the 2018 Spring Semester in American University's Washington Semester Program to experience the field of Journalism.
Email: mm7930a@student.american.edu