Have you just recently started hosting in-person networking events again? 
Wondering how to get people engaged in authentic conversations, not just a business card exchange? Do we even remember to bring cards to events anymore?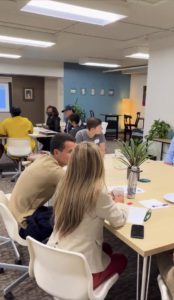 Wondering how you can foster engaging and lively discussions and have people leave saying, "Wow! That was great! I'm so glad I came to this event!" 
Recently we held our second in-person Business Acceleration Expo since February 2020. We partnered with DC Startup Week for the event so we had many attendees who had never been to Hera Hub before. Not only did we want to make sure everyone got the most out of the sessions hosted by our members, but it was also important for them to have a productive in-person networking session too! 
As a collaborative workspace and business accelerator, we are constantly focused on helping our members build authentic relationships with fellow members by facilitating lots of events online and in-person.
We knew exactly what to do. 
Below are some tips we'd like to share for the networking session of your program:
Ask people to sit at a table or seating area with people they don't know

. Separate colleagues and business partners and encourage attendees to participate. Y

ou'd be surprised how many people still sit with people they already know. 

If you have late comers, help them find a table/seating area and make sure they are welcomed into the group! 

Plan ahead and select ice-breaker questions.

Make sure some are business related but have some that are not. Below are the questions we used for our event:
a. Describe your target market in three words or less – Set a timer for just 5 minutes (or a bit longer if tables are large), and encourage people to give everyone at the table a chance to speak.
b. What is the best piece of advice you've been given? Check out what one table said below!
c. What is one important skill you think everyone should have? Some answers from one of the tables are also below!
d. What activity helps you relieve stress? Lots of laughter and great ideas shared! Lots of people meditate!
Keep it short and use a timer for each question!

If there is too much time, some people will dominate the conversation and drag the energy level down. We had 8 to 10 people per table and the entire session was 30 minutes, with each question getting 10 minutes!

(Secret tip: Simple math shows that 4 questions for 10 minutes is 40 minutes! Our first question was five minutes long and the last one was a set-up for lunch conversation! The other 5 minutes was transition time.)

 

Circulate and make sure everyone at the table is engaged!

If you find someone dominating the conversation, find a gentle way to move it along such as a time limit reminder.

End with a fun raffle prize or lead into lunch to keep the energy going!

Don't go directly into a serious topic session if you can avoid it. Allow people some transition time to enjoy meeting new people in person!
And, enjoy the networking event yourself! As much as online events make our lives easier, taking out the travel time factor, we all know networking in person is so much better.
Here's what one of our participants, Riva Kamat, Founder of Lotus Clinician Well-Being had to say about the responses at her table:
"The networking session at Hera Hub that Julia Westfall created during DC Startup Week was a wonderful experience. She started out the sessions with questions that got people talking and building a sense of community. Here are a couple of them:
'What is one important skill that you think everyone should have?' 
Answers included 'Communication skills, interpersonal skills and the soft skills'
'What is the best piece of advice you have been given?'
'Just get started because you will never be 100% ready and you are smart enough to figure out the next steps. Find good mentors.'
Absolutely a session I would attend again!"
And let us know if you have a favorite ice-breaker question that you use for events! We are always looking for new ones!