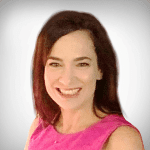 Danielle Verderosa, President of HR Allies, has 25+ years of human resources experience in the hospitality, senior living, warehouse/manufacturing, and defense security industries. Most recently a Vice President of HR for a 4,100-employee contract management services company with 150 nationwide locations, Danielle has the HR industry's top professional credentials and has been the recipient of several top awards honoring her integrity, leadership, and business excellence.
HR Allies specializes in human resources compliance and creating effective and affordable HR infrastructures for small businesses with two to 99 employees.
You may want to ask Danielle questions related to:
Should I hire an employee or a contractor?
What are some good recruiting and interview techniques for my open position?
How should I resolve a conflict between employees?
What can I do to make sure I'm instilling a positive company culture for employees?
How can I best manage remote workers?
Danielle hosts her GURU hours every Thursday from noon – 2:00 pm ET. Please click here to book a time on her schedule.
Email: danielle@hrallies.com
Website: https://hrallies.com/