As Hera Hub expands internationally with the opening of new location in Uppsala, Sweden, it's great to have an opportunity to speak to the international community about what we have to offer. We recently spoke with Paul Ndiho, a TV producer with Voice of America Africa. He reached out to us to learn more about coworking and how building a community can help support female entrepreneurs as they build and grow their businesses.
It was an honor to share this interview with two of our members who are making a difference in the lives of people in Sub-Saharan Africa. Lisa O'Donoghue Lindy celebrates the success of women entrepreneurs through her platform, She Inspires Her, and shares their stories in a wonderful new book. Rajakumari Jandhyala, founder of Yaatra Ventures, is working on transformational infrastructure projects. Can't wait to see where these ventures are in five years and humbled to be part of their journey.
Here's the story!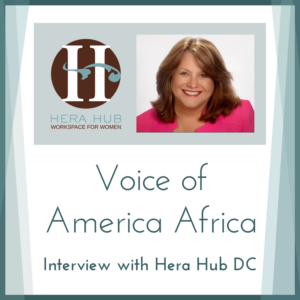 I vote for a Hera Hub in Namibia!