Equity crowdfunding has been around since September 2013 for accredited investors who make over $250,000 per year.
With the new Regulation Crowdfunding (Reg. CF) Title III of Jumpstart Our Business Startups (JOBS Act) law, effective May 16, 2016, non-accredited investors, making under $250,000, can also share in the equity (ownership) of a company through this type of crowdfunding.
Founders can also raise up to $1,000,000 from non-accredited investors under this new regulation.
So how does it work? Recently we hosted truCrowd, a FINRA registered equity crowdfunding portal, to tell us. Vincent Petrescu, CEO, reviewed the rules and regulations with startups and others in the investment community. As a registered FINRA portal, truCrowd works with entrepreneurs to help them prepare their offering providing support in the areas of business valuation, intellectual property protection, market validation, etc. They also support the investor community by helping them find new investment opportunities.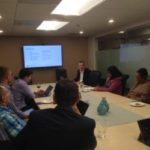 Rajakumari Jandhyala, CEO of Yaatra Ventures and Hera Hub DC member, said, "This new regulation not only allows startups to gain financial support from a broader community, but also allows potential investors to align their investments to the size of their income."
This new platform may be just what the doctor ordered for many female founders looking for funding since only 7% of venture capital goes to female founders. As Geri Stengel, President of Ventureneer, points out in her Forbes, 2016 article, Crowdfunding Is A Female Founder's Best Friend, "female entrepreneurs are more likely to reach their funding goal than males raising money through crowdfunding," referencing a study by Hebrew University that evaluated Kickstarter campaigns. They found that "women enjoyed a 69.5% success in getting funded vs. 61.4% for men."
So how has this new platform's performance faired since May 2016? On September 7th, Kendall Almerico, crowdfunding attorney, JOBS Act expert and Entrepreneur contributor, published his report card for the first three months. He says, "The early results look like the law is on the verge of making the honor roll, as it finishes its first quarter of securities law kindergarten." He continues to say, "Eighty-two Title III equity crowdfunding campaigns were filed with the Securities and Exchange Commission in the first quarter and 20 campaigns have exceeded their target amount so far. That 24.4 percent success rate is two to three times the success rate that most rewards-based crowdfunding sites…"
If you are a founder looking for startup capital, you should consider equity crowdfunding especially if you are pre-revenue, looking for brand ambassadors or are looking for a larger investor pool. Also consider investing in someone's startup! For as little as $100, you can get part ownership in a company you want to support!
Fun Fact: CROWDFUNDING Act stands for "Capital Raising Online While Deterring Fraud and Unethical Non-Disclosure Act." For more info, click here.