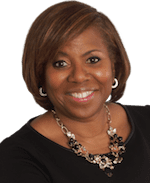 Deborah Owens is CEO and Founder of WealthyU, a financial wellness company. She is a former financial services executive who left the industry to provide solutions that address the investment knowledge and confidence gap. Ms. Owens is the author of three critically acclaimed books, most recently A Purse of Your Own, published by Simon and Schuster. According to the Optimal Financial Wealth Study by Georgetown University, 30-40 percent of wealth inequality can be attributed to a lack of financial knowledge. WealthyU creates customized financial coaching and training programs for individuals and organizations. WealthyU has a proven track record of helping thousands of people overcome their financial fears, increase their financial acumen and learn how to build wealth.
You may want to ask Deborah questions related to:
The financial markets make me nervous and seem complicated, what can I do?
How do I find the money to put away towards retirement?
I feel like I should be much further ahead financially, what can I do?
I am investing in my business, what else should I be doing to secure my future?
Email: deborahowens@verizon.net
Website: www.wealthyu.co
Office Hours:  Every other Thursday from 12:00 pm to 2:00 pm. Please check the events calendar for dates. Please use her online calendar to schedule a time.