Every year the Washington Business Journal  honors 25 women for their who have made their mark in the Washington, DC business community with their Women Who Mean Business program.
This year's honorees includes one of our very own, Phyllis Caldwell, Founder of Wroxton Civic Ventures.
The careers of all of these women are impressive.  From Lynn Dugle, CEO of Engility Corp., to Susan Tynan, Founder and CEO of Framebridge, Inc., we find roles models and inspirational leaders from TV producers to scientists and everywhere in between.
Congratulations to all of these women for their accomplishments and for sharing their stories.
Click below to learn more about Phyllis and her vision to promote quality housing access for all. As she says, "more than housing. It's schooling, it's access to healthcare, it's access to retail."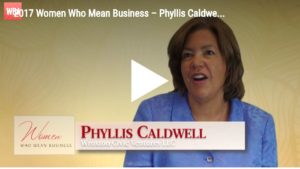 Congratulations, Phyllis, for the well-deserved recognition.