We are excited to welcome Lynda T. Correa Peralta, founder of The Pocket Palette and 4th Place Winner of the 2017 GW New Venture Competition, as a new Hear Hub DC member! The Pocket Palette is a single use, full face makeup kit that empowers women to focus on their priorities by providing the convenience to stop carrying bulky items, and start saving time and energy.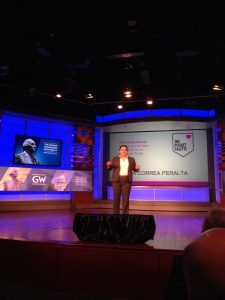 Last year, we joined a long list of DC area businesses as an in-kind sponsor for the competition. As one of the 12 finalists, Lynda qualified for an in-kind sponsorship, in addition to her cash award of $2,500 from the university program. We are delighted that she selected a Hera Hub DC membership and are honored to have her as part of our community!
The GW Office of Innovation and Entrepreneurship, under the tutelage of Jim Chung, Associate VP for Research, Innovation and Entrepreneurship, and Lex McCusker, Director of Student Entrepreneurship Programs, has worked tirelessly with mentors and judges to support teams of entrepreneurs working to build their innovative business. The program culminates in an annual competition with over $300,000 of funding and support for the twelve finalists.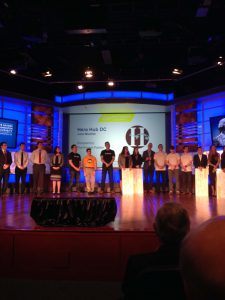 Many thanks to Governor Rick Scott and First Lady Annette Scott of Florida for their sponsorship that initially funded the program nine years ago and continues to support the competition today.
Click here for more information about all of the finalists and their awards.