Frequently we speak with business owners who have a beautiful home office that seems to satisfy their work needs, but they come to Hera Hub looking for more. Here are the top 5 reasons our members have shared about why they work from Hera Hub, even if they have a great home office!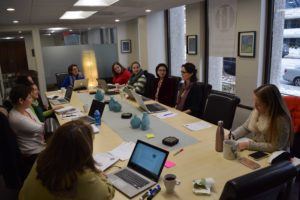 Increased Productivity – We regularly hear, "I got 3 hours of work done

in 3 hours

!" Having a place to focus without

distractions and where everyone else is working,

 is a great motivator.

Working

 efficiently gives you more time for

other important aspects of your life. Members

 plan their days differently and come with an intention to complete a

task or project. Just that simple step 

of planning their day helps them be more productive and intentional with their work.




  

Building Their Team – Some

members are building their teams, either with interns or part-time employees. Many 

college interns are

not permitted to work from a 

home office, even if they primarily work remotely. We

 welcome them to work for free with members at Hera Hub. Remote employees can also benefit from working with you even a few hours a week, which 

may not be feasible from your home office.  We can build a custom plan with the right mix of coworking and conference room hours that make sense for your business.




  

Professional Space for Client Meetings – When our members meet clients in a professional setting — rather than in a coffee shop or home office — they find they can command higher fees for services. Plus, you have all the resources you need to run effective meetings – whiteboards, projectors, wifi, and, importantly, hot coffee!


  

New Business Opportunities – Connections built in the community often lead to reaching new clients,

 sometimes directly with other members and sometimes through member referrals. Seventy percent

of

members report they have discovered

 new collaboration opportunities, which can lead 

to new business.


  

Business-Building Programs – Members benefit from a community of other entrepreneurs with expertise in everything from marketing to operations and hiring to licensing. When you're a part of the community, you gain access to others who have been in your shoes and know what it's like to build a business. Plus, members benefit from access to free mentoring through GURUs and weekly programming, such as Biz Dev Power Hour, the One Week Challenge and Business Boosters, which can help strengthen business growth.
"I initially joined Hera Hub simply to have an alternative to my home office, which isn't always conducive to productivity. But Hera Hub has become much more than a quiet place to work. I have learned so much from Hera Hub's community of entrepreneurs and working at Hera Hub helps me avoid the isolation that often comes from being a 'solo-prenuer.' And as my business has grown, I regularly use Hera Hub's conference rooms to hold my tech workshops. My clients love the space and its amenities, which is so important to me."  — Pam Holland, Tech-Moxie, and Hera Hub member