What is Hera Hub?  Think business incubator meets shared workspace with a spa atmosphere!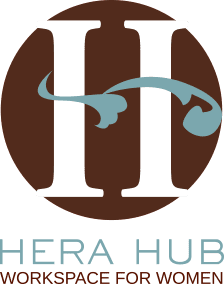 Hera Hub is a shared, flexible work and meeting space where entrepreneurial women can create and collaborate in a professional, productive, spa-like environment. The platform provides our members with connections to other business experts, access to educational workshops, and visibility within the community… thus giving them the support they need to be prosperous.  From our platform, new businesses have been spurred, funding secured and life-long friendships built.
Hera Hub is a "just-in-time" business accelerator, providing a variety of programming – HeraHub.com/programs.
Mission: To provide entrepreneurial women with a productive, professional work and meeting space, where they can connect with a like-minded community to collaborate and flourish. As of December 2020, the Hera Hub family has supported over 13,000 female entrepreneurs with the launch or growth of their business.
Timeline: First location opened in San Diego, CA (Sorrento Valley) – August 2011.  Second location opened in San Diego, CA (Mission Valley) – October 2012. Third location opened in Carlsbad, CA – July 2013.  From the there company has expanded through a licensing model. Currently, we have communities in Washington, DC (2015) – Phoenix, AZ (2016) – Irvine, CA (2019) – Temecula, CA (2020) – Chicago, IL (2022).
Additional locations coming soon via a licensing model.  Learn more: www.HeraHubExpansion.com
Hera Hub is a certified  Public Benefit Corporation.  We are on a mission to support…
Women in transition by giving them access to networks, mentoring, and education at no cost
Nonprofit organizations access to needed space for events, workshops, and meetings at no cost
Emerging entrepreneurs by giving them access to free mentoring and education
Beautiful, yet Functional, Coworking Space
Unlike other coworking spaces that tend to focus on recreating typical office settings, all of the Hera Hub locations were designed to benefit your entire being. Our coworking spaces focus on the five senses:
Sight – beautiful art, live plants, calming colors, friendly faces
Smell – aromatic candles that relax and invigorate
Sound – soft spa-like music and tranquil running water
Feel – variety of comfortable seating arrangements, including standing work stations
Taste – fresh brewed coffee, tea, spa water and snacks
The Hera Hub community is for those… 
Who want a flexible professional working space without having to commit to an office
Who want to meet like-minded people
Who feel the need for easy access to reliable resources
Who are keen on learning and keeping abreast with the latest and newest trends in the industry
While we are female-focused we're not exclusive to women.  Our members are at all stages of business development and in a variety of industries, including:
Technology
Finance/Accounting
Health & Wellness
Marketing/PR/Branding
Legal
Education
Personal Services
Nonprofits
Member Benefits

Hera Hub membership doesn't just mean having access to collaborative, serene, and productive workspace; you also become part of a community of like-minded ambitious women who are successfully moving their dreams forward.
Hera Hub is not a one-size-fits-all community. We offer various levels of month-to-month membership to meet our member's needs and budget.
About the Founder
Felena Hanson is a long-time entrepreneur and marketing maven.  Her 20 year career has spanned from technology start-ups to digital marketing agencies.  Some of her former clients include DirecTV, Epson, CNN, and Union Bank.  Before becoming an entrepreneur she was Director of Marketing for a venture-backed San Diego internet company that sold to America Online in 2003.
As Felena launched her first business, Perspective Marketing, she found her passion for supporting other female entrepreneurs through leadership roles with several professional women's organizations, including Ladies Who Launch and Women's Global Network.
Her latest venture, Hera Hub, is a spa-inspired shared workspace and community for female entrepreneurs. This as-needed, flexible work and meeting space provides a productive environment for growing businesses.  Hera Hub members have access to a professional space to meet with clients and to connect and collaborate with like-minded business owners, thus giving them the support they need to be prosperous.  The business supports hundreds of freelancers, entrepreneurs, and nonprofits in over 16 industry segments.
Felena is passionate about education, earning her Bachelor's degree in Marketing from the University of San Diego and her MBA from California State University Dominguez Hills.  She taught Marketing and Entrepreneurship at the Fashion Institute of Design & Merchandising and at California State University Dominguez Hills for the MBA online program for eight years.
Felena published her first book, "Flight Club – Rebel, Reinvent, and Thrive: How to Launch Your Dream Business" – available on http://amzn.com/0692674691
What is the meaning of Hera Hub?
After hours of research, Felena found herself drawn to a name from the Greek mythology – Hera, for its strong significance and historical meaning.  The name Hera means beautiful lady!  Ref: http://simple.wikipedia.org/wiki/Hera
In ancient times, Hera was revered as being the only Goddess who accompanied a woman through every step of her life, blessing, and protecting her daily.  Being Zeus' wife, Hera represented the fullness of life and affirms that women can use their wisdom in the pursuit of any goal they chose.
Customer Testimonials
"This is a GORGEOUS, inviting, holistic, professional, classy, and action/results-oriented haven perfect for collaboration, connection, inspiration, and events.  We did an evening event here and could not be more impressed with the quality of resources, attention to detail and overall positive vibe.  GOOD THINGS are happening at Hera Hub." – Jill Blessing 
"Hera Hub is a fantastic place to meet and brainstorm with like-minded business women.  As a small business owner working from a home office, I often miss the daily connection with colleagues.  Hera Hub fills that void – offering the knowledge and inspiration I need to keep moving forward.  The seminars arranged by Felena Hanson have been incredibly beneficial.  The last seminar – the Vision Board Workshop – wasn't only inspiration for my business, but for my overall goals in life.  Looking forward to the next event!" – Linda  Wente
"I can't even think of the right words. I don't know where I would be in my business if I did not become a member of Hera Hub. The friendships, support, sense of community, and teamwork are priceless."
– Virginia Ruehrwein
Media Gallery
Click here to download high resolution images of the Hera Hub locations, the Hera Hub logo and Felena Hanson's head shot.