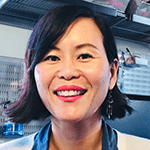 Dr. Cindy J Lin is the co-founder and CEO of Hey Social Good, a social impact tech company who is revolutionizing social good verification for businesses. HSG uses machine learning and data analytics to verify the environmental and social practices of public and private businesses. Hey Social Good offers a rapid and cost-effective way to crunch social impact metrics for businesses. They assess and award medal rankings to businesses who give back and adopt sustainable practices. Her goal is to simplify business' efforts to positively improve people, planet and profit.
Dr. Cindy J. Lin previously worked at the U.S. Environmental Protection Agency, where she spent 20 years engaged in international and national water protection projects, water quality standards development, polluted waters regulation, air and water quality policy, and sweeping environmental policy changes. Her past work includes:
US Regional Expert on the Clean Water Act
Expert Scientist on the U.S. Applied Climate Change National Work Group
Water Adviser at the U.S. Embassy, Beijing, China w/US State Department.
US EPA's Top Science and Policy Advisor on the US-China Team
Research on cutting edge investigation into water & air pollution
She received her doctorate in Environmental Science and Engineering, MS in Environmental Chemistry, and BS in Biology, all from the University of California, Los Angeles.
Some questions to ask Cindy:
Why should businesses of any size incorporate sustainability measures?
What's the current laws, policies, or practices for sustainable responsibility?
What are the benefits and pros?
Can small businesses affordably consider sustainability or ethical practices?
Are there easy ways to do sustainability?
Website: http://www.hovesocialgood.com
Email: cindyj.lin@heysocialgood.com