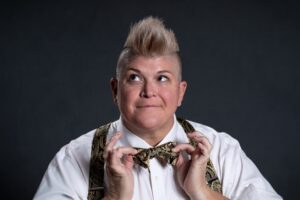 Tristan E.H. Higgins (she/her) is a global DEI speaker and consultant helping entities create an atmosphere where everyone belongs. She uses superheroes to make difficult conversations and concepts easier. Tristan frequently teaches unconscious bias at UCSD. She has a BA in Theater from UCSD and a JD from California Western School of Law. Tristan went from prosecuting criminal cases for the SD City Attorney to practicing entertainment law for SAG-AFTRA, Sega, and Sony. In 2018, she founded Metaclusive to change the world, one workplace at a time.
Questions You May Want to Ask Tristan:
How do I make my employees feel like they belong at work?
What do I need to do to implement a diversity, equity, inclusion, and intersectionality (DEII) strategy at work?
How can I get more comfortable talking about DEII?
Website: http://metaclusive.com
Email: tristan@metaclusive.com
Tristan is available from 1:30pm-3:30pm PT every Wednesday of the month.