While coworking saw a dip during the height of the pandemic, it is proving to be an important resource for those stuck working at home full-time. Coworking spaces not only provide a place to work, but also a place to collaborate, network and even make friends.
It is said that there are approximately 80 coworking spaces in Chicago, thus plenty of options to choose from. But not all coworking spaces are the same. There are plenty of WeWork locations in the city but you wouldn't find localization or a community feel at these big box spaces. If you're looking for something unique we've compiled a short list of the best independent coworking spaces in the city.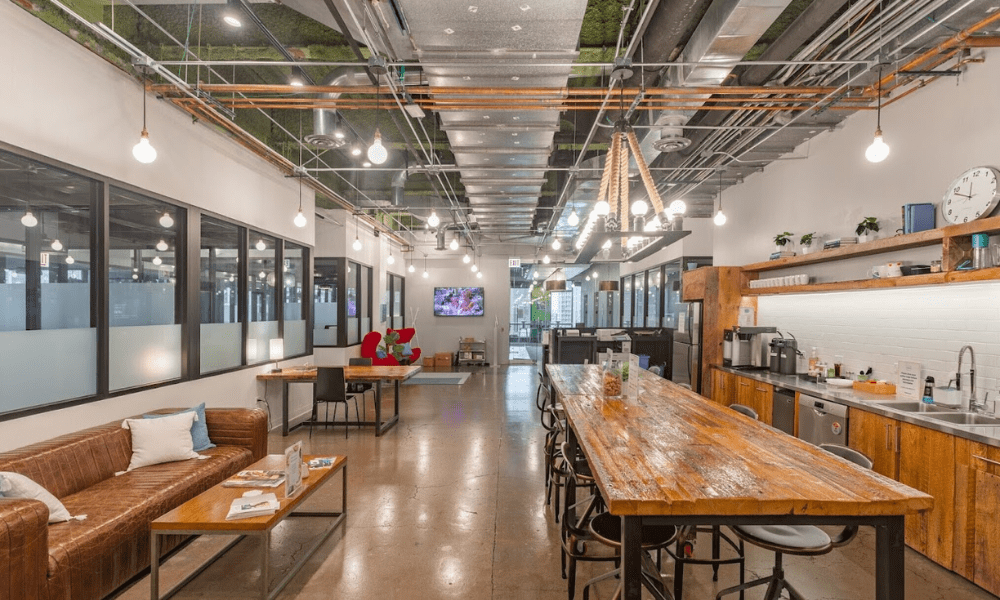 Workbox Gold Coast is a coworking space in Chicago's River North neighborhood. It's one of the city's most popular coworking spaces and offers a diverse set of services, including 24-hour access and meeting rooms. The space offers daily membership plans starting at $50/month, while monthly memberships start at $350/month.
The customer reviews on Yelp are overwhelmingly positive, with an average rating of 4 stars out of 5. Many reviewers praise the working environment as "friendly" and "calm," while others say they were able to get work done quickly thanks to the fast Wi-Fi internet connection.
According to their website, Workbox Gold Coast has around 1,400 members from all over the world—but that doesn't mean there aren't any empty desks! There are still plenty of places for new members looking for office space in Chicago's Loop area."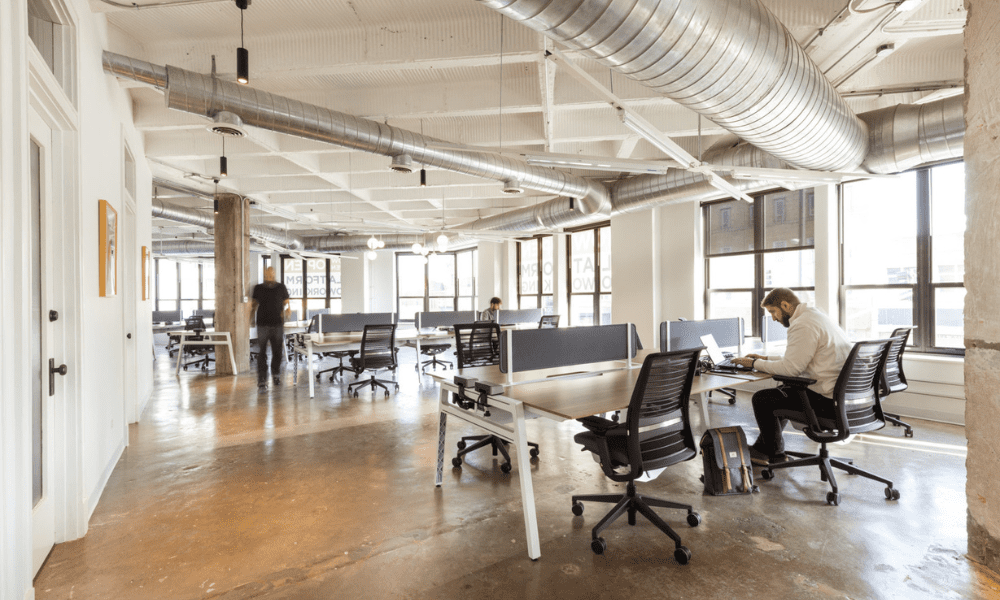 Elevators, check. Great views, check. Coworking space, check.
Platform is located in River North, which is one of Chicago's hottest neighborhoods for development and innovation. It's no surprise that Platform has taken off like wildfire since opening its doors earlier this summer—the space itself has 25 private offices, an open floor plan and large windows that allow lots of natural light to flood the room. The community here is focused on collaboration and networking; membership can be purchased individually or through one of the three tiers available: entrepreneur ($100/month), small business ($250/month) or enterprise ($450/month).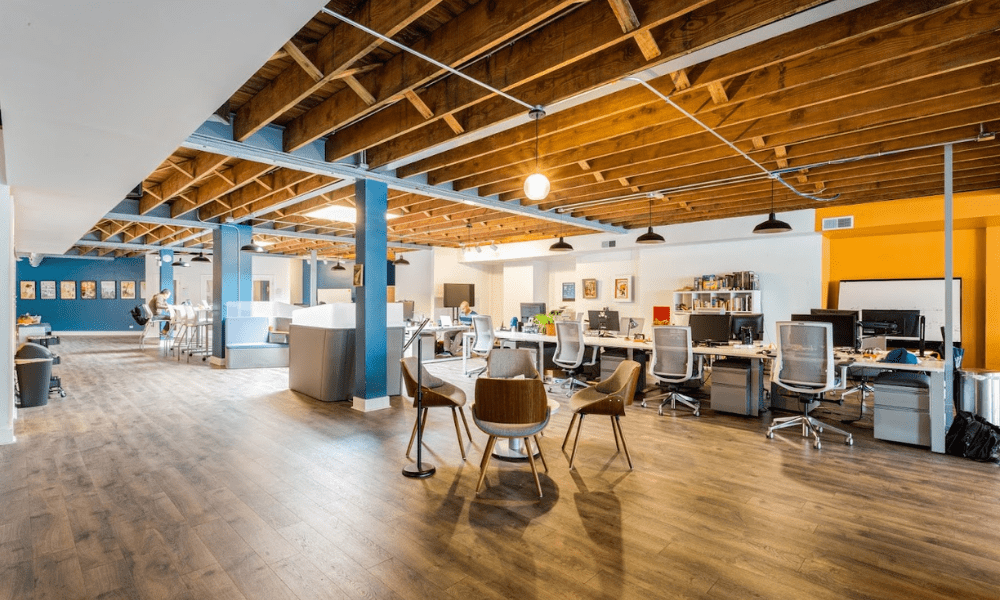 Second Shift is located in the heart of Chicago's Loop, a short walk from the Financial District and just steps away from Millennium Park. It offers private offices starting at $264/month (with discounts for longer-term leases), as well as coworking space that ranges from $149/month to $229/month depending on whether you want access to one or two desks. Amenities include conference rooms (or "collaboration pods"), an on-site kitchen stocked with snacks and coffee each week, unlimited printing, a community reception area with standing desks and ergonomic chairs, free Wi-Fi throughout the office—and even massages if you need something extra special after a long day at work!
The space itself is open concept with ample lighting thanks to its many large windows. There are also lounges for relaxing away from your desk; whiteboard walls where you can brainstorm ideas; high definition TVs so that you never miss important sports games; dry erase boards where everyone leaves notes about upcoming events around town or interesting news articles they've read lately; bike racks out front so that employees can ride their bikes into work instead of driving their cars every day—the list goes on!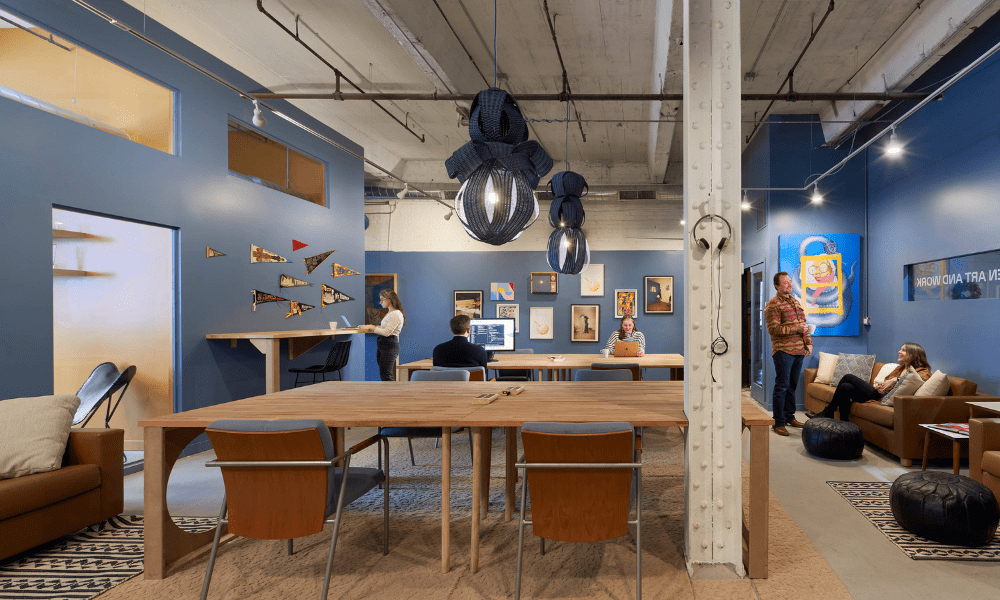 Art/Work Coworking is a shared office space, community and event space in the West Loop with a focus on fostering creative collaboration. The building itself was designed by Chicago architect Ron Krueger, who also designed some of the most famous buildings here, like the Wrigley Building and One Prudential Plaza.
Art/Work has a fantastic location at 2150 S. Halstead St., close to downtown Chicago and just off South Halsted Street's Blue Line train stop. It has an art gallery on-site that hosts shows for local artists; regular networking events; workshops on topics like how to build a website or how to use social media marketing tools like Mailchimp and Instagram; as well as monthly gallery openings and opportunities for artists to sell their work at Art/Work's marketplace (with proceeds going toward coworker dues).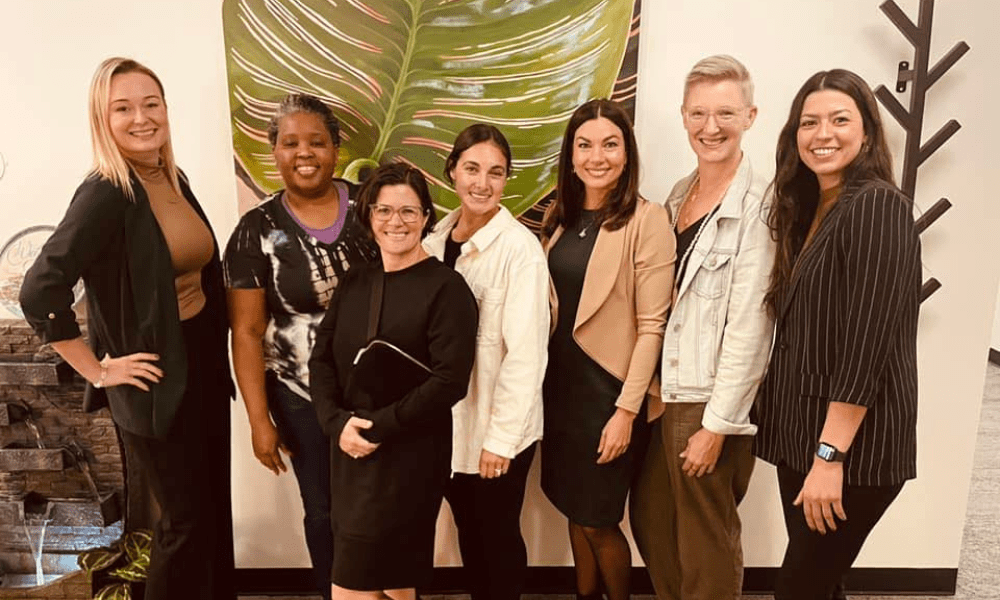 Hera Hub Chicago is part of a national network of spaces that hosts hundreds of entrepreneurs, freelancers and remote workers. Located in the hip River North, this beautiful workspace offers access not only to the River North location but also access to the Expansive network, which gives member entry to. over 40 workspaces in 39 cities, including 5 locations in Chicago alone.
The space itself is beautiful and modern, with a large common area and plenty of individual desks. Hera Hub members have 24/7 access and can rent private meeting and conference rooms. The community director, Amanda, is incredibly friendly and helpful, and always available to support your business questions or connect you to referral partners.
The space is perfect for female entrepreneurs, freelancers, or remote workers.Hera Hub Chicago also hosts lots of events and is a great place to meet other like-minded women.
These are just a few of the many great options in Chicago
If we missed any, please let us know by sending us a message on Instagram – www.instagram.com/herahub