In celebration of National Creativity Day on May 30th, long-time Hera Hub member, Kimball Willson, artist and founder of Corporate to Canvas, shares how creativity has shaped her business.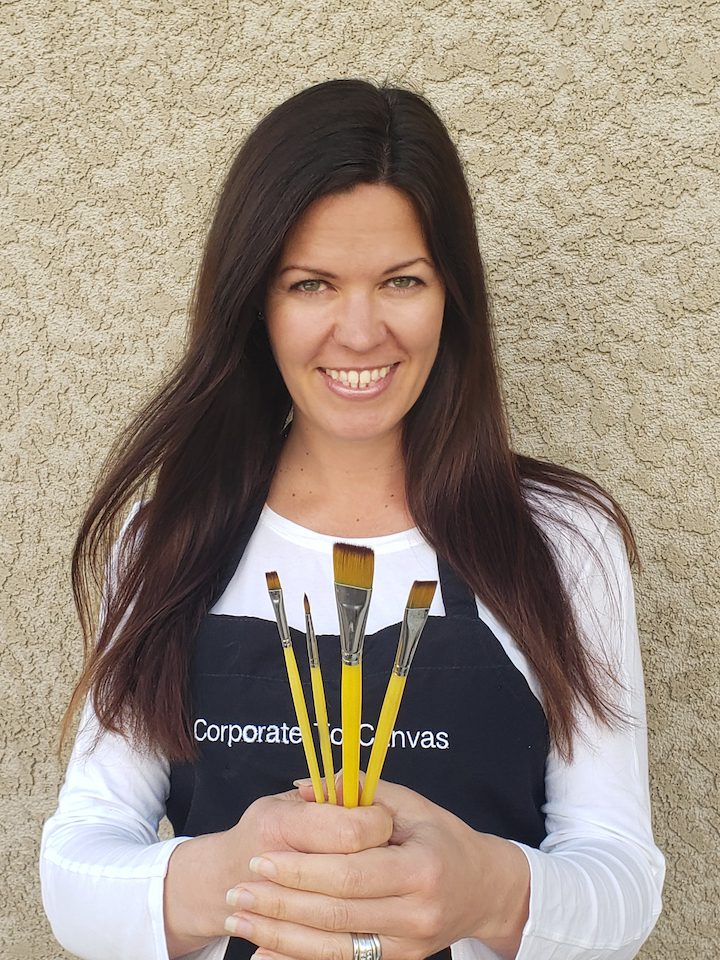 Only about half of Americans describe themselves as being creative. Kimball believes there is a difference between creativity and artistic skill; you don't have to be an artist to be creative. An artist understands the technical aspects of their craft. While creativity is a part of the artistic process, being creative can expand to all areas of life. For example, when someone says they are a good problem solver, they might not recognize that they are also saying "I'm creative." 
Creativity in business starts with a vision and is also found along the way, as we build, maintain, adapt, and scale. Kimball's professional success spans numerous industries and most recently in corporate wellness. Corporate to Canvas was initially developed as a solution to stress in the workplace. By utilizing her background and embracing creativity, she shifted her business to focus exclusively on a team-building model. Painting activities include small group canvas painting to large scale collaborative murals. These activities enhance corporate culture, encourage creativity, and foster collaboration through group painting events designed to meet the company goals. 
Businesses were forced to consider creative solutions to sudden and unforeseen safety requirements due to the 2020 Covid pandemic. With restrictions on gatherings, a creative pivot to online classes and mailing paint kits allowed her to continue her services and even expand to lead and inspire teams nationwide. 
Kimball not only brings creativity into her business, but helps people find ways to be creative in their business through the services she provides. 
"I'm honored to witness the transformation a person experiences when doing art. They may enter the room carrying stress from the day, but as the painting process unfolds, a shift occurs. Some find the Zen-like focus soothing and meditative and others discover creative skills they didn't even know they possessed. When the paintings are done and the group is bursting with energy and joy, I'm grateful to see that Corporate to Canvas has inspired the individuals and improved the team's connection." 
Corporate to Canvas has been the main focus of her professional endeavors, but her other creative paths include painting custom pet portraits in oil, and a passion project called Onnie's Art which provides art kits and tutorials for older adults. 
Rather than deny our ability to be creative, we can consider the role creativity plays and appreciate how it shapes our businesses. 
---
¹ source: https://adage.com/article/news/study-75-living-creative-potential/234302