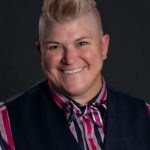 Tristan is an internationally recognized speaker on LGBTQ+ diversity and inclusion. She believes it is time to shift the focus to belonging and intersectionality, which is why she founded Metaclusive LLC. "Metaclusive" means a sense of belonging that transcends diversity and inclusion where all are represented, valued, and accepted. Metaclusive focuses on all types of diversity, including race, gender, gender identity, sexual orientation, disability, religion, familial status, military service, and age. As a superhero fanatic, Tristan took the title "Metahuman" and will also bestow it on all who train with her. Capes are optional.
Questions You May Want to Ask Tristan:
How do I make my employees feel like they belong at work?
What do I need to do to implement a diversity, equity, inclusion, and intersectionality (DEII) strategy at work?
How can I get more comfortable talking about DEII?
Website: http://metaclusive.com
Email: tristan@metaclusive.com