There is no question that social media has had a major impact on our society. It's a new day when traditional media, print and television, are using 140 character Tweets as sources. In its infancy, the Internet was limited to chat rooms and bulletin boards. Then it moved into adolescence when AOL (America Online) gained massive popularity and spawned services like MySpace, Classmates.com and Friendster. In 2004, a unknown student on the Harvard campus launched The Facebook; 2005 brought us YouTube, and the rest is (modern) history.
Today is Social Media Day. Started by Mashable "as a way to recognize and celebrate social media's impact on global communication," it's now evolved into a meetup events and local conferences like Social Media Day San Diego.
In addition to the social impact of these services, they have had a major impact on how businesses interact with customers and other businesses.
More and more businesses are hiring people or firms specifically to manage their social media accounts. A  Social Media Examiner Industry Report from 2015 has some significant findings on social media use. They surveyed more than 3,000 marketers to find out the impact social media has had on businesses:
96% of marketers state they're using social media for their business
64% use social media for 6 or more hours per week, 41% for 11 hours or more
90% say using social media has generated more exposure for their business
We asked several Hera Hub members their thoughts on how social media has helped their small businesses and what their favorite channels and tools are. Facebook, Twitter, Instagram and Hootsuite led the way.
"We love HootSuite because it allows us to post to all of our organization's accounts at once!" ~Tessa Williams, Girls on the Run San Diego 
Engagement, exposure and opportunities to collaborate were the top benefits for using social media.
"I manage social media accounts for my clients and I have seen social media build brand awareness, as well as drive traffic to websites that increases the engagement with their brand." ~ Gwen Robinson, Illuminous Marketing
Not having enough time and staying current with the different platforms were among the challenges our members mentioned.
With technology continuing to get smarter, more channels coming out every day, and mobile becoming increasingly important; it's clear that social media is not going anywhere.
Take a look at the chart below from Overdrive Interactive to see just how many avenues are available for businesses to get their message out to potential consumers.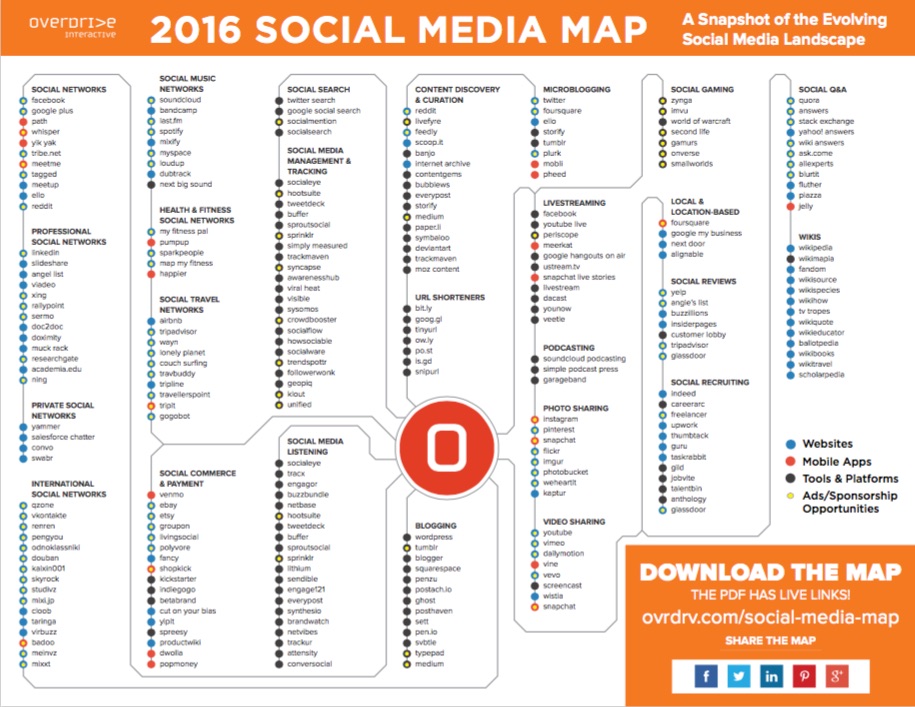 If you're a small business, you can't ignore the importance of social media as a tool for growth. Follow along with the social media celebration: #SMDay If you've seen success with your online marketing efforts let us know in the comments!
For more reading on the history of social media and social networking:
http://www.likeablesocialmedia.org/brief-history-of-social-media/