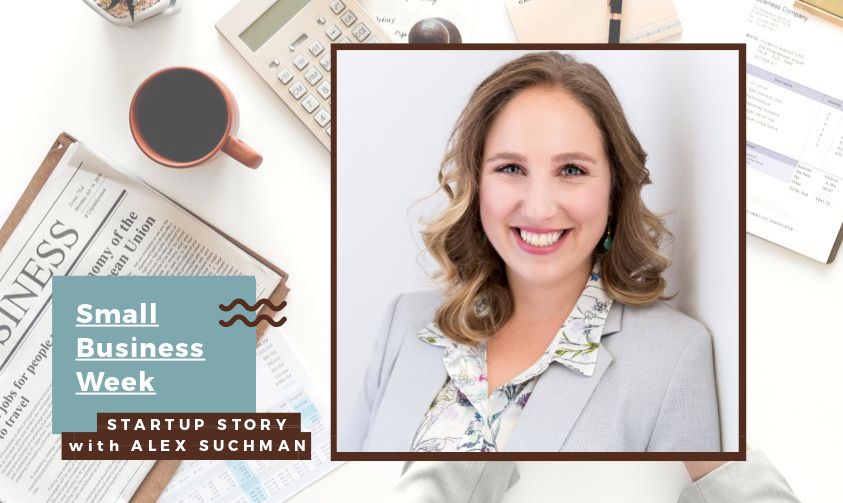 In celebration of National Small Business Week (April 29th – May 5th) we sat down with five members from Hera Hub locations across the world to hear about their story, passions, impact, and businesses.
The first fabulous member featured in our interview series is Business Processes & Operations Consultant, Alex Suchman. She is the founder of AIS Collaborations, a business management company that helps small nonprofits and small business who do good work be able to work even better. This means working in collaboration to streamline the day-to-day operational and management tasks so these workplaces can work more efficiently, empowering my clients to focus on their missions of making a difference in the world.  She has been an active Hera Hub D.C. member for the past year.
---
What was the inspiration behind your business? 
I spent 14 years working in the public policy and public health world, determined to solve large societal problems through research and evaluation. In those years I worked in several small businesses and nonprofit organizations, all run by brilliant, creative, mission-driven leaders. While these leaders had vision and passion in spades, they often didn't have the operational and management expertise to keep the workplace running efficiently on a day-to-day basis, especially when faced with a period of growth or transition.
I developed a keen understanding of the unique needs these small, mission-based businesses and non-profits have, and how they are capable of accomplishing amazing feats through dedication, flexibility, and ingenuity. Too often, though, the details of running a successful workplace and ensuring that all work is performed in a deliberate, efficient, and effective way is overlooked.
So I decided to go out on my own and work with organizations like my former employers to help them develop better operational infrastructures and systems. Better operations make workplaces happier, more productive, less stressful, and more financially sound!
Who are your clients and what do you do for them?
My clients are small (1-25 people) established small business and nonprofits in the mission-driven, creative, and social enterprise fields.
Through consulting, coaching, and training services, I work with clients to develop systems, processes, and resources that empower them to overcome the recurring obstacles and inefficiencies that turn even the most interesting jobs into tedious chores. I work closely with my clients to uncover the root causes of their problem and identify and implement solutions specific to their workplace culture, management style, and capabilities.
What are your business' values? How do they align with your personal values?
I am committed to helping clients achieve their missions of enhancing justice, compassion, health, civility, knowledge, creativity, and beauty in the world. My entire career has been guided by three central tenets:
I am driven by a commitment to help make the world a better place.
I believe in the benefits of organization, planning, and structure.
I am most fulfilled when I can use my innate problem-solving skills to help other people.
I founded AIS Collaborations to be able to apply these fundamental traits to help as many fellow mission-driven, creative leaders as possible be as successful and productive as possible.
How/Why did you choose your business name?
I knew I didn't want to use words like consulting, systems, strategies, or solutions in my title because those are very generic and have been rendered almost meaningless by various business school and consulting jargon. I chose the word "Collaborations" because it connotes working together, and outcomes that result from an organic, bottom-up, relationship-centered approach. I don't begin working with my clients thinking I know the answers and can just tell them what to do – they have all the answers. It is my job to ask the questions and help them put the answers together in a way that reveals the best solutions for them.
What do you love most about your work?
I love helping people and helping them become more effective and successful while doing the work they are passionate about.
A lot of my work comes down to building self-awareness, helping clients articulate their true visions and figure out the steps and structures needed to make those visions a reality. That is what operations really means – operations is the HOW in making the vision an implementable, sustainable reality. When I see a client start to apply systems thinking or backward planning techniques on their own, and be able to overcome their own workplace challenges, it is just the most rewarding and exciting feeling.
What is the biggest challenge in running your own business?
Balancing the current client work with marketing and business development to find future clients. Both of these could take up all of my time, and I am constantly having to adjust my efforts and shift priorities to keep that balance no matter what else is going on.
What are your/your business' goals for the future?
Right now I am focused on a 3-year plan to make sure that this is a viable business idea and model. Once I have been in business for 3 years, I plan to reassess the services I provide and look back and what my most successful endeavors have been, and then figure out where to go from there. Right now I feel like I am trying a million different things, implementing new ideas, and taking advantage of various opportunities to see what sticks. When I know what sticks, I'll redevelop the business around that.
What advice would you give to a new entrepreneur?
Be willing to make mistakes, and see every mistake or failure or unforeseen issue as a learning and growth opportunity. Adapt your plans. pitch, services as needed to incorporate these lessons learned. Also, be patient and trust your instincts.
---
Get your non-profit's operations set up for optimal performance by checking out the AIS Collaborations blog and 'liking' them on Facebook.  Connect with Alex on LinkedIn.
Alex Schuman's interview is part of Hera Hub's Small Business Week Feature. Hera Hub is a coworking space a business accelerator for female entrepreneurs. Find a location near you. 
This year the Small Business Administration will be hosting a FREE 3-Day Virtual Conference that is open to the public. Begins Tuesday, May 1st.  More info!