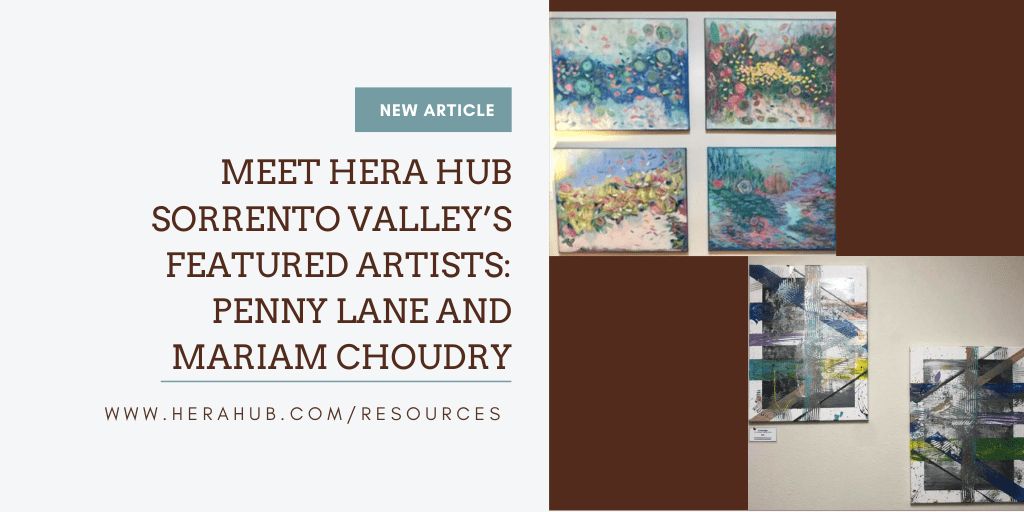 In honor of "Inspire Your Heart with Art" Day, which is annually on January 31st, we highlighted two featured female artists who are currently showing in the Hera Hub Sorrento Valley location. Both Penny Lane and Mariam Choudry are local artists in San Diego who incorporate mixed media to add texture to some of their pieces that lean on the abstract side.  We did a mini Q&A with them to get a sense of who they are as artists. To view the current pieces available, click here. 
What inspires you as an artist?

Penny Lane: The ocean and nature. While on one of my many Covid freedom walks, I take lots of photos. I find the colors, shapes, and textures beautiful and the tiniest details interesting. I then try to recreate those ideas in an abstract way on canvas.

Mariam Choudry:  My artwork explores a series of Whirling Dervishes, Landscapes and Flowers. The Whirling Dervishes paintings are inspired by the beautiful poetry of Rumi. Through imagery, I express the quest to connect to the Divine and to discover our true selves. Through this exploration, I aim to arrive at a deeper awareness of the world within and around me. I'm in awe of the natural beauty that surrounds us and my artwork expresses how I feel when witnessing that.

When do you know a piece of work is finished? 

PL: I've been lucky and have always had this intuitive sense when I'm finished with a piece. Call me crazy, but my paintings talk to me and I listen!

MC: I plan most paintings. The initial concept, composition, colors. However, as the paintings develop, with each stage I place them on my dining table and observe them for a couple days to decide the next step. Nearer the end, if I look at each element and love it, I know it's done. 

How do you feel viewers perceive your work?

PL: I feel that my viewers will have a great sense of calmness and peace. I also believe that each viewer will see whatever they are supposed to see and hopefully have a feeling of connection with my art.

MC: I hope the paintings bring a smile to the viewers, a sense of joy and excitement. My goal is to move them, inspire them and transport them to the dimension in life that is full of beauty.
Penny Lane is a self taught artist who works with acrylics and mixed media to add texture and interest to her abstract paintings. She incorporates flour, coffee grounds, soap shavings, and tin foil – just to name a few – into her work. She enjoys painting to destress and for the total freedom without rules it offers. Follow her on Instagram: @penny.m.lane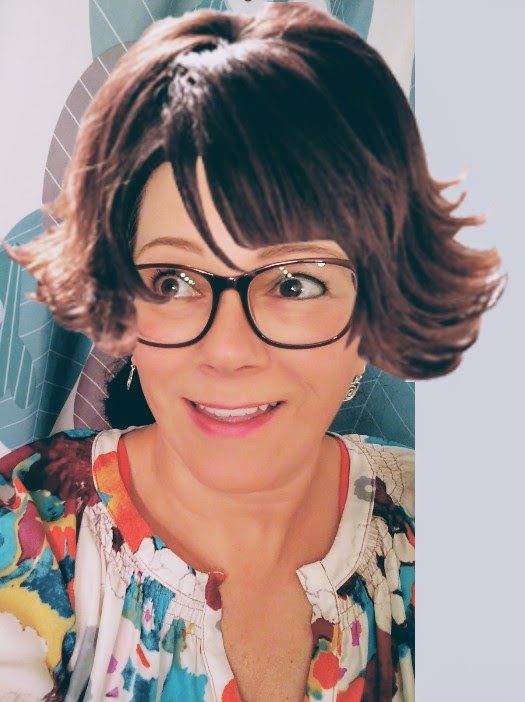 Mariam Choudry creates art as a form of love, meditation, purpose, and a journey to self-awareness. She followed and developed her true passion after taking a break from the IT world to raise her children. As a professional artist, Mariam's inspiration derives from nature and spirituality. Follow her on Instagram: @mariamchoudryart and @mariamcartist