We were sad to see Deborah Wiley,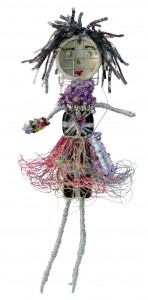 long-time Hera Hub art curator, move to Texas last month.  As founder of Ziva Works, she brought dozens of amazing artists to all three San Diego locations, including Marsha Boston and Lola Juris.
In Deborah's absence we searched far and wide to find two of the most creative women in San Diego – Vanessa Elle & Denise Sarram.
Vanessa Elle, founder of Yes Living, an Interior Décor and Feng Shui company is joining Hera Hub as the Art Co-Curator for the San Diego locations.
With a background in Interior Decorating, Fashion Design and Product Development she has been involved in several successful start-ups.  She is currently growing her Interior Decorating business and has been the lead designer of all three San Diego Hera Hub locations and several offices of various Hera Hub members and other Southern California businesses and residences.
Vanessa is passionate about improvisational comedy, girl-power and making the world a more joyful and beautiful place through art and play.
Learn more about Vanessa at www.YesLiving.com
Denise Sarram is a Brooklyn girl, by way of the Jersey shore. Since moving to San Diego in 2001, she has participated in a few art gallery exhibitions each year and likes to stay active in promoting the thriving San Diego art scene through San Diego Visual Arts Network (SDVAN.net)
With a background in graphic and web design, she has build a successful career as a jewelry artist.  Most recently her work has moved from jewelry into larger scale, more sculptural, found object assemblages and collages.
Right now she's enjoying being a stay at home mom, and she continues to teach private jewelry classes and group classes at various senior residences and community schools.
Learn more about Denise at http://www.bonaimo.com
Learn more about Hera Hub's artists and events on our Facebook page – http://www.facebook.com/herahubartists
If you are interested in volunteering to help out with upcoming art shows please email Sarah@HeraHub.com and she will connect you with Vanessa & Denise!