In honor of Earth Day (April 22), we got outside and cleaned up our beautiful canyon behind Hera Hub Sorrento Valley!
We incorporated "plogging" into our annual Hera Hike – we brought gloves and a trash bag to clean up the area as we walked – a trend called "plogging" with Swedish roots!
This is a portmanteau word from two Swedish verbs to create plogga, giving us plog:
att plocka upp

: to pick up +

det är jogg

: to jog
According to a BBC article, an increased concern about plastic pollution led Sweden to start plogging as an organized activity around 2016.  There are now plogging events around the world.
Making this part of their daily activity, many ploggers enjoy the physical benefits of the additional range of movement in their workout.
Here are highlights of our Hera Hike!
Where we hiked!
Los Peñasquitos (meaning little cliffs) Canyon Preserve lies between Rancho Peñasquitos and Sorrento Hills to the north and Mira Mesa to the south. It stretches approximately 7 miles from the Interstates 5 and 805 merge to just east of Interstate 15. It encompasses some 4,000 acres of both Peñasquitos and Lopez Canyons. The Preserve is jointly owned and administered by the City and County of San Diego.
Los Peñasquitos Canyon Preserve attracts people with its natural beauty and abundant natural resources — both today and in the past. Native American history within the Preserve dates back as far as 7,000 years ago.
Los Peñasquitos Canyon and its tributary, Lopez Canyon, are characterized by varied natural resources. Evidence of the rich biodiversity of the canyon include over 500 plant species, more than 175 types of birds, and a great variety of reptiles, amphibians and mammals. Many of these species are rare or endangered and are protected within the Preserve.
Many different geologic formations and soil types make up the steep slopes, riparian stream corridors, flat mesa tops and grassy hillsides of the Preserve. The varying terrains and soil types, in conjunction with continually flowing water, form more than 14 habitat types and support a diverse collection of flora and fauna.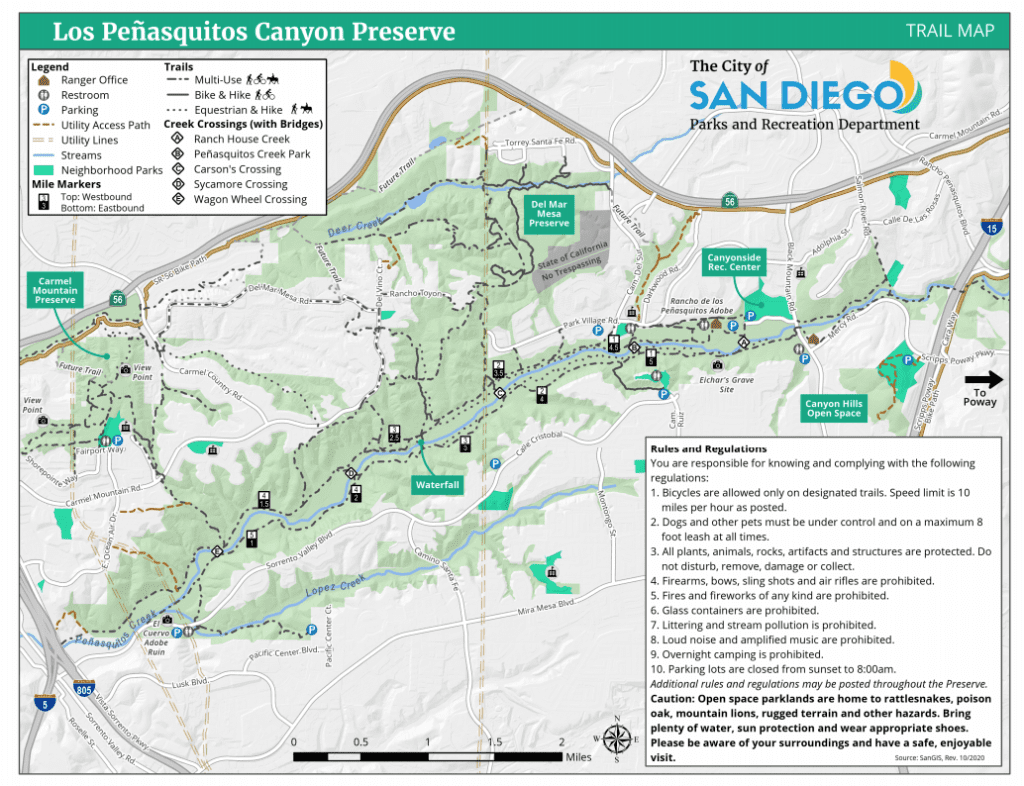 The scenery of the canyon includes:
– a waterfall cascading through volcanic rock;
– a streamside forest of giant California live oaks;
– groves of majestic sycamore trees;
– a year-round stream populated by Pacific tree frogs, crayfish and largemouth bass;
– a freshwater marsh hosting a variety of aquatic birds including great blue herons, egrets, mallard ducks and more;
mule deer, bobcat, coyote and raccoon are just a few of the mammals that can be observed throughout the Preserve.