August 21st is National Senior Citizen Day. This day was created in 1998 by President Ronald Reagan as a day to support, honor and show appreciation to our seniors. "For all they have achieved throughout life and for all they continue to accomplish, we owe older citizens our thanks and a heartfelt salute. We can best demonstrate our gratitude and esteem by making sure that our communities are good places in which to mature and grow older — places in which older people can participate to the fullest and can find the encouragement, acceptance, assistance, and services they need to continue to lead lives of independence and dignity." ~ Ronald Reagan
When it comes to age in popular culture, the term is usually accompanied with a hyphen. Such as anti-aging, age-defying, and age-reversing. In fact, Allure Magazine recently trended on Twitter when announcing it will no longer use the term anti-aging.
While aging is something we rarely talk about as an aging expert it's something I'm determined to change. Aging is part of the life experience. In fact, in older age, I see the faces of those who lived their dreams. As entrepreneurs, we know success requires overcoming challenges and hard work. Ultimately it requires perseverance and time. It sounds like aging to me!
Female Entrepreneurs And Aging
At Hera Hub, we benefit from the experience of others. The Hub is a place for women to develop connections and build their community. Now, the Baby Boomer generation is a community that garners a lot of media attention. However, there is someone coming on the horizon. Millennials. The largest generation the country has known. Now 87 million strong Millennials outnumber the 72 million Boomers.
Similarly, female entrepreneurs blaze a path for women today and beyond. Boomers are influencing how we perceive aging. At the same time, Millennials are coming of age and disrupting businesses. In between these two generations are the connectors GenXers. Again, Hera Hub reflects culture with three generations building community. As members of the start up culture, we recognize the power of collaboration and the ability to affect positive change. I believe we can use this experience to affect a bigger change.
August 21st is National Senior Citizens Day. In the past, those familiar with the day thought of it as a time for someone else. Instead, this year take a lead from Allure Magazine's pro aging philosophy. Reevaluate your attitude to aging and how it impacts your decision-making. After all, when you look in the mirror you see the future. Aging is a part of living and embracing the journey leads to opportunities for success. Similar to entrepreneurial path aging is about change and the possibility of creating a legacy.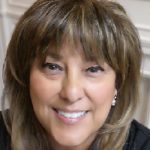 About the author:
Judi Bonilla is an author, aging expert, and gerontologist dedicated to educating, empowering, and inspiring Americans to age well. In order to influence change, she connects to multigenerational audiences through social media. In addition, she works with start-ups, agencies, and small businesses to enhance service delivery to older adults. Lastly, as a valued resource for topics about aging she curates information about aging on her blog, podcast, and newly launched vlog.
Connect with Judi on social media
Website – JudiBonilla.com
Facebook – @JudiBonilla.Gerontologist
Twitter – @JudiBonilla