Meeting/Event Space 
General Use Room Rental Regulations and Conditions for Use 
Purpose 
This agreement sets the standard terms and expectations for the renter as outlined by Hera Hub Irvine for the express purpose of hosting an event. By reserving and renting this venue, the purchasing renter agrees to these stipulations and rules of conduct as outlined herewith. 
The rented space(s) may only be used for pre-approved purposes and event(s), as delineated in the signed rental agreement. 
Table of Contents
COVID-19 Liability Release Waiver
General Room Booking Information
Room Bookings
Room Booking Start / End Times
Room Arrangement Exception
Room Reconfiguration
Room Cleaning /Room Detailing
Attachments
Guests/Attendees
Terms and Conditions
General Terms
Liability
Damages
Limitation of Liability
Renter's Property
Liability for Guests
Cancellation/Refund Policy (*during the Covid pandemic, company may be flexible with following terms)
Space Rental Reminders!
Planning Your Event
Room Clean Up
After Event – Clean Up and Leaving
COVID-19 Liability Release Waiver
In consideration of my participation in meetings and events at Hera Hub Irvine, Renter acknowledges and agrees to the following:
I am aware of the existence of risk to my physical health by participation in the meeting or activity at Hera Hub Irvine. I understand it could expose me to illness such as, but not limited to COVID-19.

I have not experienced symptoms of fever, fatigue, difficulty in breathing, dry cough nor have I exhibited any other symptoms relating to COVID-19 or any communicable disease within the last 14 days.

I have not, nor any member(s) of my household, traveled by sea or by air, internationally within the past 14 days.

I did not, nor any member of my household, visit any area within the United States that was reported to be highly affected by COVID-19, in the last 14 days.

I have not been, nor any member(s) of my household, diagnosed to be infected of COVID-19 virus within the last 14 days.
Following the pronouncements above I hereby declare the following:
I am fully and personally responsible for my own safety and actions while and during my participation and I recognize that I may in any case be at risk of contracting COVID-19.

With full knowledge of the risks involved, I hereby release, waive, discharge Hera Hub Irvine, its board, officers, independent contractors, affiliates, employees, representatives, successors, and assigns from any and all liabilities, claims, demands, actions, and causes of action whatsoever, directly or indirectly arising out of or related to any loss, damage, injury, or death, that may be sustained by me related to COVID-19 while participating in any activity while in, on, or around the premises or while using the facilities that may lead to unintentional exposure or harm due to COVID-19.

I agree to indemnify, defend, and hold harmless Hera Hub Irvine from and against any and all costs, expenses, damages, lawsuits, and/or liabilities or claims arising whether directly or indirectly from or related to any and all claims made by or against any of the released party due to injury, loss, or death from or related to COVID-19.

By booking and paying for this room rental, I acknowledge that I have read the foregoing Liability Release Waiver and understand its contents; that I am at least eighteen (18) years old and fully competent to give my consent; that I have been sufficiently informed of the risks involved and give my voluntary consent in signing it as my own free act and deed; that I give my voluntary consent in signing this Liability Release Waiver as my own free act and deed with full intention to be bound by the same, and free from any inducement or representation.
___________________________________________     __________________________________
    Name                                                                                                              Date
General Room Booking Information
Meeting/Event Room Bookings
Hera Hub Irvine is a unique community, connection, and collaboration for women. In consideration of our members, meetings of (2) two or more people must take place in reserved meeting rooms. Unless, otherwise noted in the signed rental agreement. Coworking spaces and common areas are always to be respected for their intended use.
Meeting/Event Room Booking Start / End Times
The rental time per the signed rental agreement will commence and conclude as stated per the agreement. To prevent additional fees, make sure to factor in set-up, networking and clean-up/tear-down time in addition to the actual event time.  
As a renter, I am only receiving a license for the agreed upon venue space which may be limited to the rental time that has been reserved and paid for. 

Hera Hub may restrict your access to the premises for any reason immediately before and after your rental time has started and expired. 

Hera Hub Members may not book discounted meeting rooms for

I must not act in a manner that, in Hera Hub's sole discretion, does or is likely to adversely affect the peaceful operation of the premises. 

I will not use the premises for illegal purposes or in any manner that could tarnish the reputation of Hera Hub Irvine. 

I will not tamper with, borrow, or remove any property kept on the premises. 

I will not cause or permit any hazardous substance to be used, stored, generated, released, or disposed of on or in the premises. 

I understand that I must maintain my rental area and the common areas of the premises in a neat, clean, and sanitary condition. 

I will be held solely responsible for the agreed upon rental area, including any common areas. 

I will be held accountable for any injury or damages sustained during the duration of the rental and occupancy on the premises. 

I will be held liable for any guest, invitee, or visitor actions on the premises. 

Any signs, symbols, or other objects displayed on the premises must be approved by Hera Hub. 
Room Arrangement
The rental space is returned in the same condition and layout as it was received. 

Conference room rentals may not extend beyond the room and flow into the lobby area.

Chairs, furnishings and decor items from Lobby or any other areas may not be moved and used in meeting rooms.

Renters and attendees agree to

NOT

use any other area in the building other than what is outlined in the rental agreement. This includes any/and all professional offices, cubicles, workspaces, coworking/shared open seating, computers, phones, printers, or other areas of the building. 

Any time spent in rooms after business hours or on weekends in any room other than what is outlined in the signed rental agreement will be charged accordingly. 
Room Arrangement Exception
An exception may be made in the main Conference Room. Tables and chairs may be rearranged to suit the specific use. Any tables and chairs that are rearranged must be returned to their original positions. It is helpful to take a photo of any area that is changed to use for reference when placing things back after the event. 
Room Reconfiguration Fees
Rates stated are for our standard room configuration. If changes are needed the following fees apply: 
Move tables and chairs different direction in meeting room, No charge 

Remove tables and/or add chairs, $50 – $100 depending on the room selected 

Event space reconfiguration, $100 minimum   
Room Cleaning /Room Detailing
The renter is responsible for thoroughly cleaning the room after use and leaving it in the condition it was found. (If food or beverages are served an additional detailing fee will be incurred to restore the space to the detailed standard).  Trash bags will be provided. Trash should be taken to the trash area in the parking lot directly across from the building. 
Detail cleaning fees based on number of attendees. Charged on the next business day following the event. 
$25 -for  14 attendees or fewer

$50 -for  15-24 attendees

$150 -for  25-49 attendees

$200- for   50+ attendees
Attachments
Nothing shall be attached to the walls, ceiling, furnishings, or any fixtures. Signs on easels and stand-alone banners are acceptable. 
Meeting/Event Guests/Attendees
Guests are welcome to come and meet with members in a reserved meeting room, however, if the guest would like to stay and work in the cowork space, they are welcome to do so but will need to obtain a guest pass. Each member receives one guest pass per month. Monthly passes may not be used for the same person each month. Their purpose is to give new people an opportunity to test drive the space.
To maintain reasonable volume levels in the coworking space, meetings of 2 or more people need to be in a booked meeting room.  The renter shall assume all responsibility for all actions of their guest and shall allow no unlawful and/or disruptive activities. Guests are to be in the space only if a Hera Hub Irvine member is with them. 
Once the reservation has been approved and reserved, Hera Hub Irvine may provide additional policies and guidelines regarding the space. This Agreement may reference sections from the additional policies and guidelines with respect to the Terms of Service. If there is a discrepancy between the documents, the more restrictive term(s) shall prevail. 
Terms and Conditions 
General Terms
The Renter shall pay to Hera Hub Irvine the full rental amount no later than 21 days before the commencement of the rental period. Of this amount there is a non-refundable deposit that will be applied to rental charges upon final settlement of accounts. The remainder is for damages/security deposit which will be returned to the Renter upon settlement, minus any charges for actual damages done to the venue by Renter or his/her associates. 
The Renter shall have access to and use of the venue commencing and ending on the agreed upon dates and times. Hera Hub Irvine shall provide to Renter all keys, access control codes, and other items necessary to give Renter such access.
The full rental fee for the use of the venue described above shall be based upon the room chosen and the times it is being rented. The balance of the rental fee due, less the non-refundable deposit described above, shall be payable to Hera Hub Irvine upon the expiration of the rental period described above. 
Renter shall tender to Hera Hub Irvine the rental fee balance due, and all keys and other access control devices in his/her possession (if applicable). 
Renter shall remove all personal property, trash, and other items that were not present in the venue when Renter took control of it. 
Upon Renter's completion of his/her obligations above, Hera Hub Irvine shall return to Renter the security deposit minus any amounts deemed necessary to repair damages inflicted upon the venue by Renter and/or Renter's associates, guests, invitees, contractors, and all other persons whatsoever who enter the venue during the rental period, whether or not such persons did so with Renter's knowledge or consent. 
In the event that Renter fails to pay the balance due within the time period agreed upon in this rental, interest shall accrue upon the unpaid balance at the rate of 25% per year until it is paid in full. Renter shall also be liable to Hera Hub Irvine for any legal fees, court costs, and other expenses associated with collection.
Liability
Renter agrees to protect, indemnify, and hold Hera Hub Irvine, harmless from any and all claims, liabilities, damages or right of action directly or indirectly arising out of the use of the facility, included, but not limited to, the following. 
Damages
Renter is responsible for any loss or damage to the Rental Space, adjoining facilities, building common areas, or building exterior or grounds. This includes all damages to any equipment, fixtures, surfaces, including the ceiling, floors and floor finishes, or any other property. 
Renter agrees to compensate Hera Hub Irvine., for damage to property by any person attending the event, and further assumes responsibility for any personal injuries, including death, caused by participants of the scheduled event. Deposits may be used to offset the costs of such damages. Renter agrees and acknowledges that Renter's liability for loss or damages is not limited to the amount of the deposits received by Hera Hub Irvine.
Renter's Property
Hera Hub Irvine is not responsible for items belonging to Renter or Renter's guests that are lost, stolen, or damaged during the Rental period. Renter and Renter's guests as Renter's permitted invitees RELEASE Hera Hub Irvine FROM ANY AND ALL LIABILITY FOR LOSS OR DAMAGES to such property. 
Limitation of Liability
Hera Hub Irvine'S LIABILITY TO RENTER FOR DAMAGES ARISING FROM RENTAL OR USE OF THE ACTIVITY AND MEETING ROOM SPACE FOR ANY REASON WHATSOEVER IS LIMITED TO THE TOTAL AMOUNT PAID BY RENTER TO Hera Hub Irvine IN RENTAL FEES AND DEPOSITS. 
Liability for Guests
Renter is, and hereby acknowledges that it is liable for the actions and behavior of Renter's guests during the Rental Period, and at any other time such guest is on or around the Rental Space as a result of Renter's use of the Rental Space. Hera Hub Irvine will not be liable for the safety of Renter's guests. RENTER AGREES TO INDEMNIFY AND HOLD HARMLESS Hera Hub Irvine FROM ALL LIABILITY ARISING FROM THE ACTIVITIES OF RENTER AND RENTER'S GUESTS DURING THE RENTAL PERIOD. 
Cancellation/Refund Policy/Deposits
A room reservation will take the room off the market and prevent another renter from reserving the space. 100% deposit is required at booking of 30 days or less. Partial refunds are issued according to the following schedule because we will have lost the opportunity to re-rent the space. NO REFUNDS will be issued for cancellations after 7 days prior to the event. If you elect to cancel prior to the date of the event, you will be charged according to the following fee structure.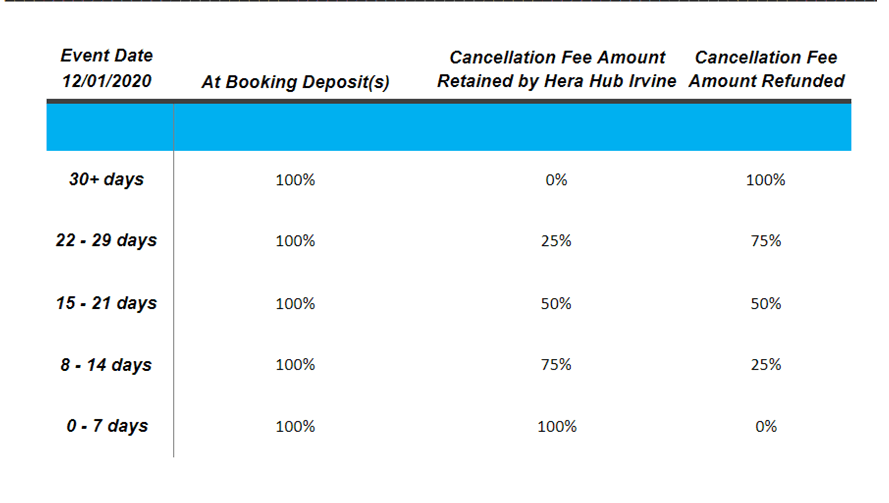 Space Rental Reminders!
Planning Your Event
Please understand that the rental time per the signed rental agreement will commence and conclude as stated per the agreement. To prevent additional fees, make sure to factor in set-up and clean-up time in addition to the actual event. This shall include but is not limited to set up, tear down, clean up, networking prior to and/or after the event, A/V testing, table and chair arranging, and any other details that will propel your event to success. 
Room Clean Up
LOBBY

Please do not move or rotate any furniture in the lobby

Do not open or close the glass door separating the lobby and conference room
MEETING ROOMS

 

Leave as found – neat, orderly and clean 

Push chairs back in, straighten tabletops, remove all trash, lights out 
COWORKING SPACE

 

Leave as found – neat, orderly and clean

Place tabletop items and pillows back, push in benches and chairs

Push in chairs as needed

RESTROOMS & KITCHEN

 

Leave as found – sparkling clean 

Put all dishes in dishwasher and/or wash and put away 

Put clean dishwasher dishes away in cabinets 

Wipe counters dry 

Hang towels neatly 

Wipe in and around sinks

 

 
After Event – Clean Up and Leaving
Please ensure you leave the space clean and as you found it (refer to notes above for each space)

Please turn the lights off
IF YOU HAVE ANY QUESTIONS OR ANY ISSUES ARISE PLEASE CALL  714-213-1400