Hera Hub DC is excited to share Startup Stories from our members. We periodically interview incredible business women from a variety of backgrounds and disciplines. Our goal is to share our members' wonderful stories with the public.
Penny Catterall, founder of Order Your Life, LLC, has been working with clients for almost 7 years in the Washington DC area, helping them de-clutter, go paperless, improve workflow and make life simpler.
Penny has been a member of Hera Hub DC for 6 months. This is her startup story:
What was the inspiration behind your business?
I have always loved organizing and have an intense need to see things put in order, whether it's people's junk drawers, digital files, or email inboxes. When I found out there was a whole profession dedicated to organizing, I knew I had found my path. I also love working one-on- one with people and seeing the immediate effects of my work. Clients often call the work I do with them "life changing", which is both incredibly humbling and gratifying.
Who are your clients and what do you do for them?
Anyone who is disorganized in any way, shape or form is a potential client. They range from busy moms with households to manage, to small business owners with too much paper and not enough time, to seniors getting ready for the next stage of their lives in a new home. The Order Your Life team serves all of these clients and more.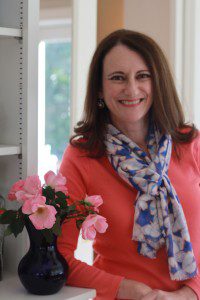 What are your business' values? How do they align with your personal values?
My business values and personal values are one and the same. When I work with my clients, they get all of me, including my respect, compassion, energy, efficiency, and my need to truly make a difference in their lives.
How/Why did you choose your business name?
I chose Order Your Life because I love the fact that the word Order can be both a verb and a noun. By working with me, not only do you put your life in order, you are able to take charge of your life.
What do you love most about your work?
I love that I every day I get to meet and work with such a wide variety of people (from young adults to people in their 90s) and that what I do with them can have such a powerful effect on their everyday lives.
What is the biggest challenge in running your own business?
Trying to do it all and not knowing when you've hit the limit of what you can do by yourself. Outsourcing is key!
What are your/your business' goals for the future?
I would like to expand the move management and senior services parts of my business, as well as work with more clients virtually around the world on digital organizing.
What advice would you give to a new entrepreneur?
Know that you are not in this alone, even if you are working on your own. There are so many people out there who are more than willing to give you help if you just ask for it!