Hera Hub DC, Springboard Enterprises, Fosterly, Black Female Founders and The Dingman Center of Entrepreneurship at the University of Maryland selected ReciproCare to represent the DC area for the 2017 SBA InnovateHER Business Challenge!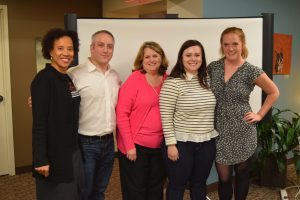 ReciproCare was selected, along with six other businesses from a field of 24 applicants, to participate in the pitch competition to see who would be sent forward as our entry for the national competition to be held later this spring. The national finalists will be competing for prize money contributed by the Sara Blakely Foundation.
The SBA started the InnovateHER Business Challenge in 2015 in order to find and support businesses that impacted the lives of women and families. They are also looking for businesses that have potential for commercialization and fill a need in the market.
ReciproCare, founded by Dr. Charlene Brown, is building a technology-enabled business to address home care labor market inefficiencies with a one-stop job search application shop for caregivers. We believe she has an excellent chance of making it to the finals!
The finalists will be announced July 31, 2017! We will keep you posted and be on the look-out for the date of the final pitch session. It's a great opportunity to hear the finalists' pitches and see who is awarded the prize money!