Our work environments have changed drastically over the course of 2020. More and more people are choosing alternatives to traditional offices. Due to the global pandemic, coworking spaces are becoming a go-to choice for entrepreneurs and employees alike. So why should you spend money on a coworking space when you already have a home office? This is a valid question, after all, coworking spaces cost money. But is it worth the membership fees? Read on!
What is a Coworking Space?
Wikipedia defines coworking as "an arrangement in which workers of different companies share an office space, allowing cost savings and convenience through the use of common infrastructure, such as equipment, utilities, and receptionist and custodial services, and in some cases refreshments and parcel acceptance services."
Coworking has exploded exponentially in the last few years. About 118 million people worked in a coworking space in 2017. The figure jumped around 36 percent worldwide in 2018 and is expected to double by 2022.
Major coworking spaces companies have raised millions of dollars, which shows that there is a lot of potential in this industry, with more and more workers choosing this option.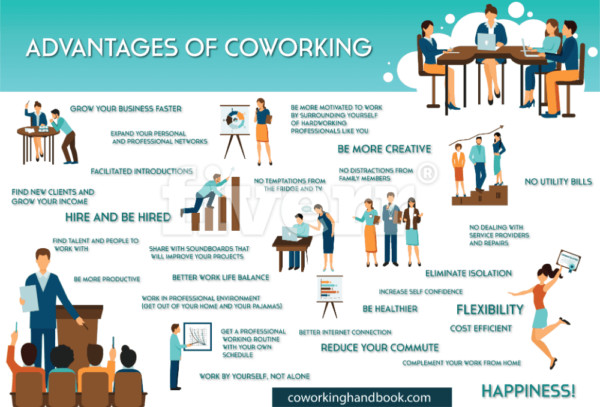 But Why Is Coworking So Popular?
Here are some reasons why coworking has become so popular:
Coworking Offers a Sense of Community
Entrepreneurs and employees who work from home can end up feeling lonely. Coworking spaces like Hera Hub offer a chance to both mingle with like-minded people and grow your network. Most coworking spaces host happy hours and other social events for their members to meet and get to know each other.
Hera Hub is a female-centric coworking space where women can work in a spa-inspired, spacious environment that is conducive to productivity and creativity. At Hera Hub, it's not just about working under one roof. We have daily events, workshops, and seminars to help you grow your business, connect with you resources, and incorporate you into the global membership community. Currently all of our programming is virtual, so members can participate within the comfort of their own homes.
Allows You To Network and Form Connections
Coworking spaces allow you to network without the worries of office politics. You can decide who you wish to become friendly and collaborate with without worrying about external pressure. This is very critical because office politics and hierarchy-related issues can force people to feel disconnected and depressed.
At Hera Hub, the environment is nurturing and supportive, not competitive or critical. We strive to cultivate a sense of community where we build each other up. Partnership and collaboration is encouraged, and we find that our members thrive when they work together. Additionally, our membership also serves as a broad referral community in which reliable bookkeepers, marketing strategists, attorneys and more can easily be found.
You Don't Have to Worry About Bills and Facilities
Coworking spaces charge a fixed daily, weekly, or monthly amount that includes access to all resources, including the internet, printers, air conditioning, and even an address to have your business mail delivered.
Can Be Great for a Professional Appearance
In the world of Zoom, Google and Microsoft video conferencing, your workspace makes a difference in how you feel and the image you portray to others. A messy bedroom with children running around in the background just won't do when you're on a Zoom call.
At Hera Hub and other coworking spaces, you can feel confident that you're leaving a long-lasting professional impression on your video calls or recordings. Hera Hub Carlsbad also has several private meeting rooms available to rent by the hour for when privacy and a quiet background is of the utmost importance. The use of our address as your business address also
Access to Additional Perks
Those with big dreams cannot settle for less. When working out of your home office, you have to worry about procuring everything that you need, from a printer to a cup of tea. Such issues are eliminated when it comes to coworking spaces, where you have access to everything that you need to have a productive and professional workday.
Well-developed coworking spaces offer incredible features and perks, including private meeting rooms, a variety of beverages, games, and conference rooms. This can be very handy for entrepreneurs looking to close a big deal or make an impression.
In addition to this, you might have access to refreshments including kombucha, coffee, and tea. Hera Hub offers a full kitchen and provides delicious snacks, and let's not forget we also have wine!
Fewer Worries More Functionality
Coworking spaces offer a worry-free experience. You will not have to worry about taking care of a broken light or poor internet connection. The team will manage it for you.
You can work in peace without worries. Not only will you be more productive, but you will be less stressed when you return to your home. Creating boundaries between your work and home environments build a positive balance that allows you to view your home as a place of rest and rejuvenation. Coworking allows you to unwind from work rather than continue working through the night because you didn't get enough done at home during the day.
But How Is It Better Than Working From Home?
Still confused? Here are some reasons why you should considering ditching your home office and working out of a coworking space:
Coworking spaces like Hera Hub are designed like proper offices and are the perfect location in which to host physical or virtual meetings. Conversely, finding an appropriate space or background for hosting a meeting can be extremely challenging when working from home.
Coworking spaces are also perfect as you scale your business in that "in between phase" before you're ready for your own office space. When needed, you can book a conference room for your team members or colleagues and enjoy all the perks of having an office without worrying about heavy rent or expenses, so you can focus your funds on scaling rather than high-priced office leases and rent. Further, coworking spaces can help you save money in the long-run as you will not have to worry about investing in tools or gadgets like a scanner, printer, or fax machine; these are available at and maintained by the coworking space.
As mentioned earlier, coworking spaces offer peace of mind. They're great for all kinds of workers with all types of businesses. Whether you're a creative designer, an attorney, or are working on your next book, you'll be able to work without worrying about kids, your partner, pets, or household duties distracting you.
As you can see, coworking spaces are perfect for you if you need a quiet and productive place to focus; want to establish "work from home" boundaries; have a need to host meetings, both virtual and in-person; or are seeking a community of like-minded people. Contact us at HHCInfo@herahub.com if you'd like more information about coworking at Hera Hub or participating in our virtual programming.