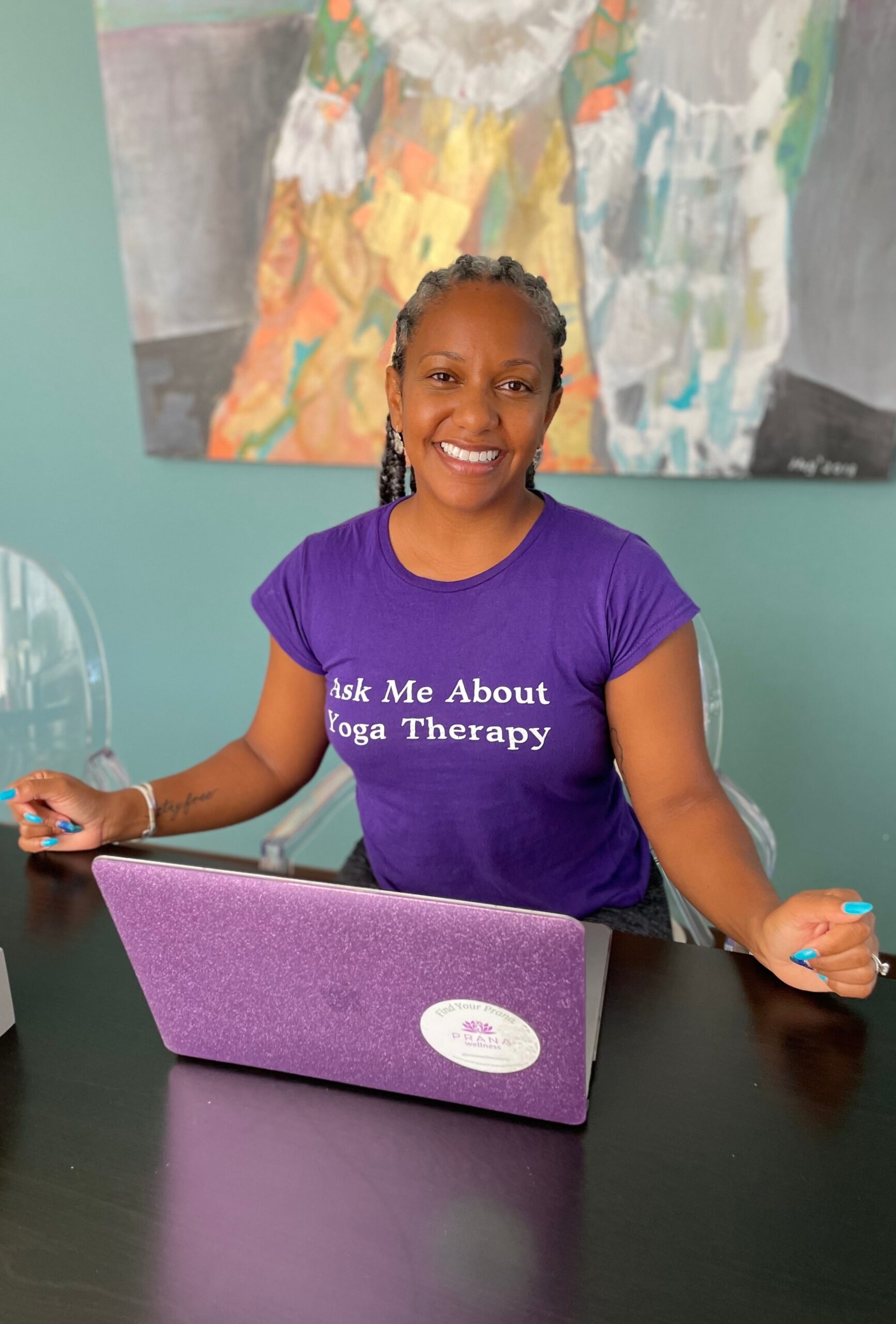 After spending 7 years as a CNN producer, Stephanie Singleton traveled to Rishikesh, India to study traditional practices of yoga, and now educates all of her clients from that unique, traditional perspective. Her business, Prana Wellness, was born in India in 2018, from Stephanie's own need for wellness tools in a stressful world. Stephanie is an RYT 500hr yoga instructor and Clinical Yoga Therapist Rx, specializing in anxiety, chronic pain, and gut health. She studied Yoga Therapy under the renowned Dr. Larry Payne at Loyola Marymount University, and is certified in trauma-conscious and perinatal yoga. She teaches specialized yoga to Active Duty military and veterans. As a speaker, Stephanie has been called upon as an expert in wellness to speak at IDEA World Fitness Convention, and to organizations like Zip Recruiter, UCSD, USC, and US Marine Corps. She has been featured in Essence, and on BNC News.
Questions you may want to ask Stephanie include:
What is Yoga Therapy and how can it help me with my chronic pain?
How can past trauma cause chronic pain, and affect my gut health and mental health?
What are some specific tools to help me manage anxiety?
How are anxiety, gut health, and chronic pain related?
How can the tools of yoga help me to heal my own body?
How can I create sustainable habits to live a more healthy and centered lifestyle?
More on Stephanie's background:
"I began studying Yoga Therapy because of my own desire to take control of my health holistically. I was tired of so many doctors not hearing me, and trying to only treat symptoms. Prevention is better than a cure. I've been really intentional about studying traditional practices of healing (such as Ayurveda) in order to better understand my own body and help my clients heal. If you work with me in 1:1 Yoga Therapy, we will work together to take a more comprehensive, broad view of your health – mentally, physically, spiritually, energetically – to discover the root of your discomfort. My expertise comes from my own experience with anxiety, which led me to start my business and study Yoga Therapy. I have trained with some of the most renowned Yoga Therapists to understand the nervous system, musculoskeletal, cardiovascular, and endocrine systems, and how we can best heal ourselves. Yoga Therapists are trained to work in collaboration with medical doctors, chiropractors, physical therapists, mental health therapists, and more. I chose to focus my practice on anxiety, chronic pain, and gut health because they are more closely related than most people think, and I love doing the deep work to study your body and lifestyle to connect the dots."
Stephanie's GURU Hours are in-person every 2nd and 4th Wednesdays from 1-3pm at Hera Hub Carlsbad. You also have the option to book a virtual appointment with her at https://calendly.com/stephaniepranawellness/yogatherapyconsult.
Learn more about Stephanie Singleton:
Website: pranawellnessworks.com
Email: stephanie@pranawellnessworks.com
Phone: (404) 536-3686