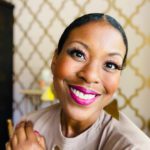 Keasha Lee Ince [EN-JEH] is a Personal Branding Coach, Messaging Mentor, Speaker, and the Founder & CEO of Striking Statements. Through her business, she helps conscious and creative entrepreneurs and coaches get NOTICED, REMEMBERED & PAID to be more of who they are while doing what they love.

Keasha has 15+ years experience in marketing, speaking, copywriting, and personal branding. She's worked with hundreds of entrepreneurs and small business owners to revamp their branding, define and grow a profitable niche, refine their messaging and position themselves as experts in their fields.

Keasha lives what she teaches. She has been a copywriter, coach and consultant for dozens of entrepreneurs, brands, and Fortune 100 companies like NFCU, Grant Cardone, Gary Vaynerchuk, Zensa, and Empowered Women International. She has guided her clients through such accomplishments as:
– Creating their first 5-figure months
– Defining and growing their profitable niches
– Revamping their messaging for clarity, distinction, and connection
– Evolving their self-image so that it matches who they've become to attract higher quality opportunities
– Leading their first workshops online and offline
– Positioning themselves as experts in their field
Keasha's top values are creative self-expression, respect, grace and communication. She is on a mission to help even more entrepreneurs, experts and coaches make Striking Statements through an in-demand brand so they can create a business and life that they love.
Questions you may want to ask Keasha include:
I really want to get clear on what makes me unique, who my ideal clients are, and how to reach them. Can you help me with this?
Where do I start when it comes to defining a more in-demand brand?
Is there a way to bring more of my FUN side into my branding without looking unprofessional?
Website: https://strikingstatements.com
Email: keasha@strikingstatements.com
Direct: (619) 354-9106