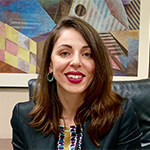 Jessica Hornbeck is a seasoned entrepreneur with over twenty years experience navigating corporate, nonprofit and small business organizations with such fervor that she has been able to boil down lessons learned into a thoughtful and easy-to-grasp approach that has created value add for her clients, team, and community. A "big picture thinker," Jessica thrives on working with business owners to build financial systems and workflow foundations to help them do more with less; maximize their limited time; and grow both their income and freedom.
Jessica holds a Bachelor of Science from Manhattan College in Economics/Finance,and a Masters in Business from New York University specializing in Strategy/Corporate Finance/Entrepreneurship. Jessica is also a Quickbooks Online ProAdvisor (Advanced). She has more than a decade of experience providing in-depth financial analyses and establishing reporting systems controls to senior management for top tier investment banks JP Morgan Chase and Credit Suisse. Since then, Jessica has pursued her passions as an entrepreneur, beginning with opening and owning her own restaurant in Brooklyn, NY and partnering with the City of New York to develop business and consulting services targeted to entrepreneurs. Her passion for learning has evolved into a love of teaching. Jessica has both developed and taught accounting and financial management courses for small business owners and individuals.
She is the Founder and President of Big Picture Results Inc. (her third business) – a business coaching, fractional CFO, and bookkeeping services organization. She is also an equity partner to select women-owned growing companies, single mother to a firecracker of a little girl, Krav Maga practitioner, and founding member of Ellevate San Diego. Jessica is as candid as they come and committed to driving positive impact, particularly for female entrepreneurs.
You may want to ask Jessica questions related to:
– How can I streamline my business operations to spend more time working ON my business than IN my business?
– How do I make my business look more appealing to investors?
– How do I go from side hustle to scaling an organization?
– What are the key things I should consider as my business matures?
– How can I do more with less time?
– What are the sort of tasks I should delegate out? What tools can I employ that will assist me in delegation?
Website: www.BigPicResults.com
Email: Jessica@bigpicresults.com