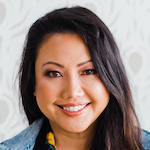 Sarah Yasukochi is a brand builder and integrated marketing strategist. She is the Founder of House Collective, a boutique marketing agency for purpose-driven entrepreneurs in the health, wellness and green living space who want to elevate their brands, grow sales, and achieve a sustainable competitive advantage.
Sarah has created brand blueprints and marketing frameworks that have resulted in triple digit increases in client web traffic, social media followers, and sales conversions. Sarah's clients have become industry leaders, fast growing companies, and 8-figure businesses.
Before starting House Collective, Sarah worked close to 20 years as a senior marketer for Fortune 500 and Global 2000 corporations. With an MBA from Point Loma Nazarene University, she has taught undergraduate courses in marketing at University of California San Diego Extension and Southern New Hampshire University. As a proven brand builder, Sarah has also launched multiple award-winning retail and service-based businesses and has been featured in San Diego Magazine and CEO Mom Magazine.
With a passion for the personal development industry, Sarah attributes much of her success to mindset and magic as much as marketing. She is also a creative and aspiring author currently working on a multimedia book that blends short stories, poetry and art. She lives in Oceanside, California.
You may want to ask Sarah questions related to:
What types of marketing activities can I do on my own (or with a small team) to launch a new business, service or offering?
What are some best practices for specific social media channels?
What are some recommended tools and software solutions to help me manage my marketing and social media activities?
How do I build the marketing strategy for my brand?
Learn more about Sarah or connect with her during her GURU hours.
Email Sarah at sarah@housecollectivesd.com to schedule your 30-minute Zoom call.
Website: housecollectivesd.com