International Artist Day, or World Art Day, is celebrated every October 25th to honor artists and their contributions to the world. This day of recognition was initially created as a homage to Pablo Picasso, who was born on October 25, 1881. We celebrate International Artist Day to appreciate and give significance to artists around the world.
Here at Hera Hub, we have a deep appreciation for artists. We are proud to support local female artists by displaying their works for purchase in our space and hosting a public art show to introduce them to our North County San Diego community. Hera Hub provides complimentary memberships to our exhibiting artists, giving them access to important resources to help them expand their reach and grow their businesses. On International Artist Day this year, we are proud to feature 3 female artists who have showcased their excellence and passion through art.
Sylvia Becker-Hill was born in Dusseldorf, Germany and at an early age, became entranced by the local art scene. Sylvia escaped the confinement and depression of the adults around her by creating her own magical fantasy world, reading widely from an early age. Only when she was in her 50s — after extensive education and over twenty years working as an executive coach and leadership trainer — did she finally make her way back to her dream of being an artist. She believes creativity is your birthright and suppressed creativity leads to in-authenticity, depression and sickness. Sylvia uses Shiloh's technique called Intentional Creativity ® to produce magical paintings and work with leaders from around the world to liberate their creativity for their business and personal lives through online workshops and presentations. Intentional Creativity® is a lifestyle and a method of painting, of relating to your canvas, and of building a painting through many layers. I use it to release old traumas from my childhood which showed up in my adult life as stress, anxiety, and patterns of standing in my own way and success. By releasing those old limitations and turning them into new strengths. For her, Intentional Creativity® is self healing, self liberation and self empowerment.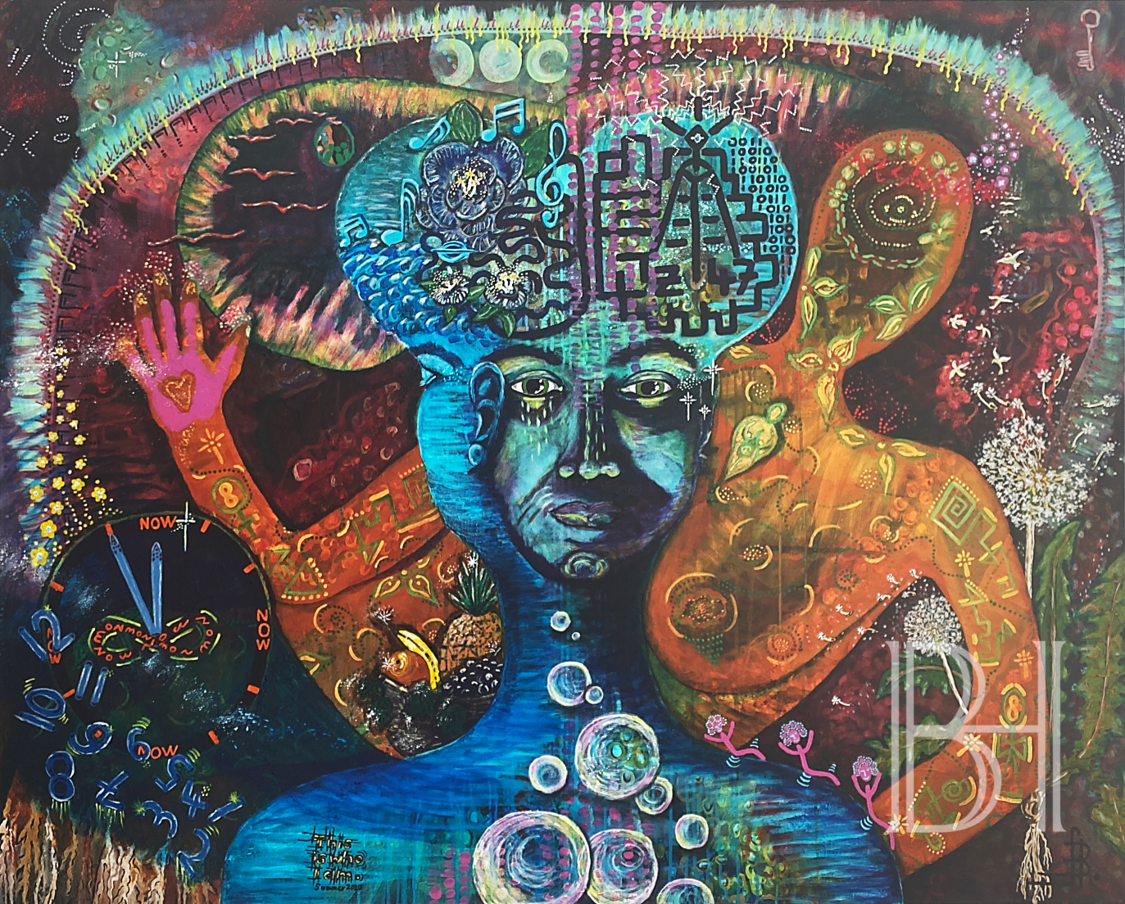 "This is who I am" by Sylvia Becker-Hill which is exhibited at Hera Hub in Carlsbad.
An example of many stories, painful situations, and outdated patterns Sylvia worked through on this painting. This one was a healing ritual for her on the canvas with the repeated movement of my hand holding the brush repeating spoken words. Healing needs to involve the body and can't be just intellectually to be lasting.
Galina Marcus is a self-taught artist, mental wellness advocate and environmental enthusiast. While painting and drawing since early childhood, she only began pursuing a career as a professional artist in 2018 when she joined the San Dieguito Art Guild in North County San Diego. Galina has a particular affinity for acrylic painting and mixed media collages. Her work varies from pure abstract to representational, but always with a spin of symbolism and surrealistic influences.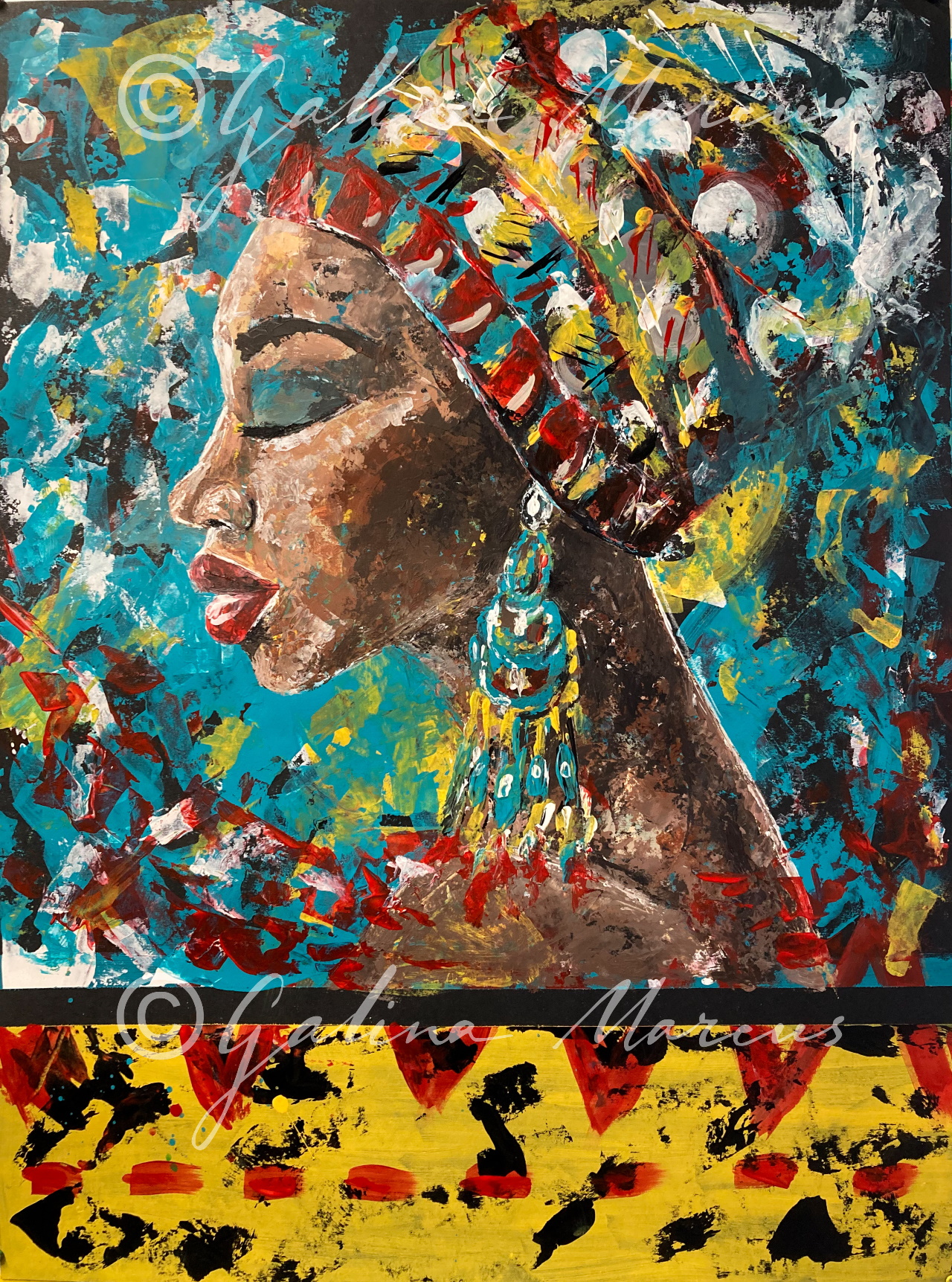 "Mama Africa" by Galina Marcus. The original painting was a part of the group show at Off Track Gallery of San Dieguito Art Guild, Encinitas, CA in September 2020 and was awarded an Honorable Mention ribbon.
"Through Her Eyes Series" highlights how women are the carriers of life, culture, faith, and relationships – in every society. This series celebrates the diversity and continuity of world cultures carried by women – priestesses, queens, shamans, goddesses, and mothers. It is a series of women's faces, fictional and symbolic characters, vibrant colors that represent cultural and social aspects of different places and times filtered through my personal and cultural perception. All 4 paintings in the series are on display at Hera Hub Carlsbad and available for purchase.
As a lifelong artist, Susan Bell is always looking for the next opportunity to translate everyday experiences into artistic expressions. Susan began painting when in her early 20s, she began to experience crippling anxiety. Art became a healing tool for her. Susan eventually became an Art Therapist, helping others to find transcendence through art. Susan's approach and output is constantly evolving as she hones her personal style. She is tough to typecast and works hard to ensure a true expression of heart and soul. Susan is on the board of the Carlsbad-Oceanside Art League (COAL).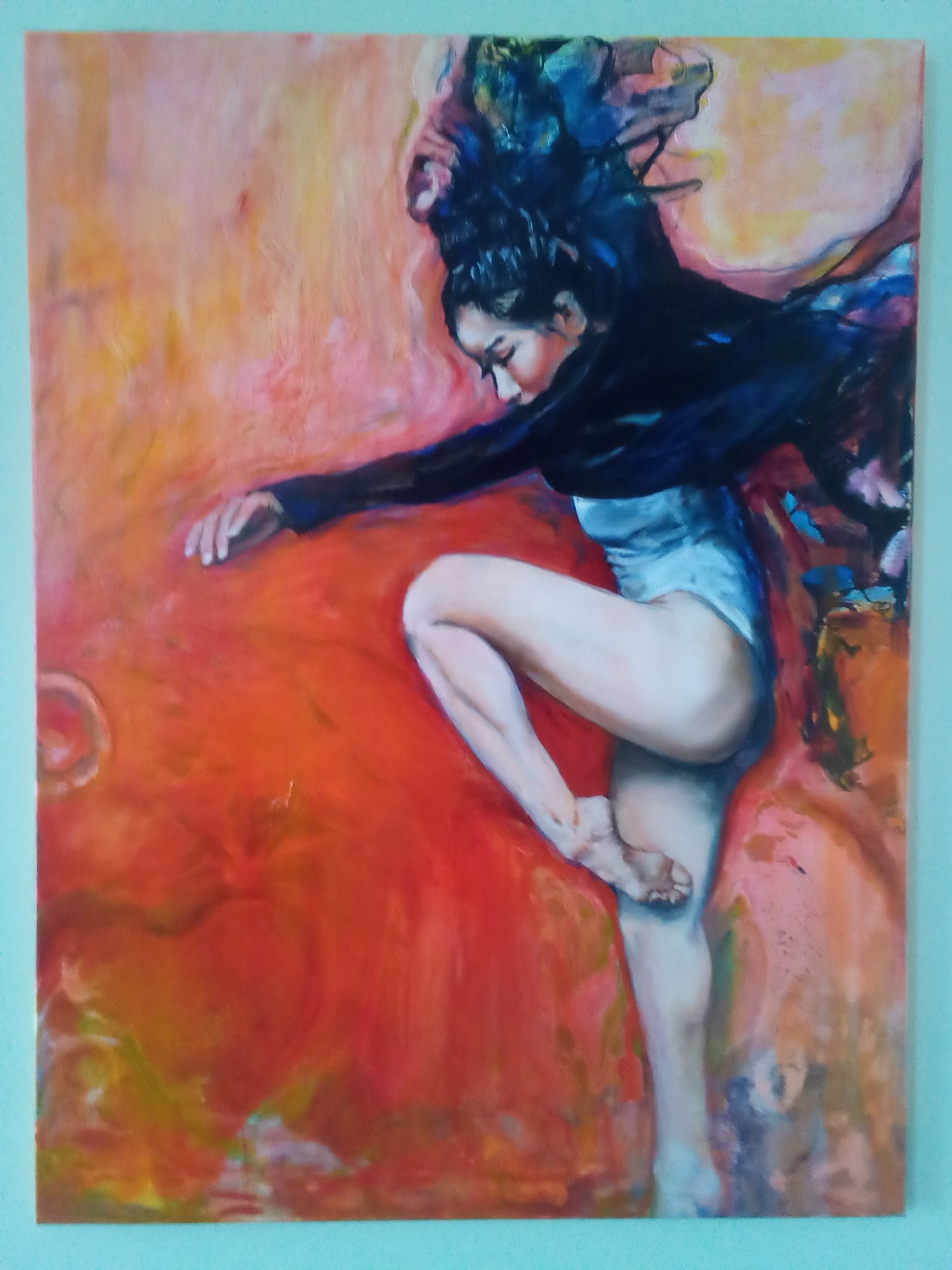 "Dance Like No One is Looking" recently won Best in Show at the North Coastal Art Gallery in Carlsbad Village. This painting, along with several others featuring women in movement, are on display and available for purchase at Hera Hub Carlsbad.
"Triumph" Art Reception & CBAD Happy Hour with Carlsbad Chamber of Commerce
To celebrate our newest exhibition, Hera Hub Carlsbad hosted a happy hour and art reception with the Carlsbad Chamber of Commerce. Our space was packed and overflowing with local business owners, art lovers, and entrepreneurs who came to support our artists. Community Director and Art Curator Tamina Madsen invited Sylvia, Susan and Galina up for a panel discussion. Guests heard from the artists themselves about their backgrounds, inspirations, and how their art represented a healing of trauma resulting in triumph.