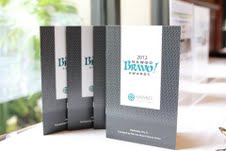 No one would guess it now, but Felena Hanson had a difficult path launching Hera Hub. Her perseverance garnered her a BRAVO! Award, the 2012 Woman Business Owner of the Year, presented last week by the San Diego chapter of the National Association of Women Business Owners (NAWBO).
Felena has not only been recognized by the NAWBO community but also by other local resources like Examiner.com.  An article written by Adrienne Moch put the Woman Business Owner of the Year front and center, illuminating not only her success with Hera Hub but also her savvy and fearless business sense.
"[Felena] leads by example to motivate her peers to take risks as she did. Hanson's goals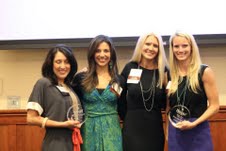 are to inspire women to explore entrepreneurial paths and encourage those who've joined Hera Hub to think big. She often challenges her members to publicly share their business goals with the broader community, creating a sense of empowerment and accountability."
Many at Hera Hub would agree with this testament to Felena's optimistic and enthusiastic attitude. Her attitude and personal story are just some of the traits that have drawn in Hera Hub members.
"Felena's story is so inspiring; it reminds me that anything is possible and that we all need to work together to achieve great things," says Hera Hub member (and fellow nominee) Vivian Sayward, founder of Vivacity Sportswear.
It goes without saying (but could be said more!) that Felena has truly inspired many and will continue to do so as Hera Hub continues to provide a solution to the shared office space and virtual office space need that San Diego greatly requires.