Felena Hanson, founder of Hera Hub, interviews incredible business women from a variety of backgrounds and disciplines for Hera Hub's podcast Flight Club. Giving you a behind-the-scenes look at female entrepreneurship, we focus on sharing backstories of amazing women as they found their "lean out" moment and bravely launched their business. We uncover their secrets to success and their advice to others who are launching a new adventure. Subscribe to Flight Club on iTunes here.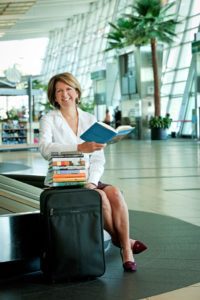 Susan McBeth has a decade of experience working with authors, publishers, publicists, agents, & readers. Her experience & creativity led her to develop Adventures by the BookTM, a dynamic brand of literary events & travels, as well as AuthorPreneurs TM, offering a host of entrepreneurial support services to help authors connect with readers. She is a contributor to Everyday Book Marketing, has been featured on NBC San Diego, KPBS, Independent Magazine, San Diego Union-Tribune, San Diego Magazine, Reading with Robin Radio, and Women's Radio. She is a facilitator for SDSU Osher Institute, a member of Writing Women, and sits on the KPBS One Book, One San Diego committee.
Website URL: http://www.adventuresbythebook.com
Twitter Handle: @adventurebybook
To hear the full interview with Susan, listen below and subscribe to Flight Club here!