Today's world is one where we have to do more with less: more errands, less time; more bills, less money; more work, less space. The Conspire blog, a Mindjet publication, addresses this issue and provides a solution — an office facelift.
According to the post, "In school and in work, we naturally work in teams to accomplish more. I believe our natural inclination to collaborate stems from that old attitude of divide and conquer." However, the modern offices just aren't accommodating to these needs.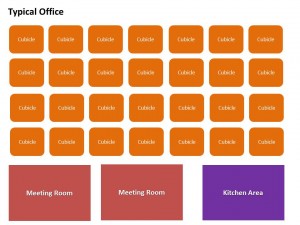 The rise of the cubicle in the 60′s greatly derailed the space for collaboration and yet the cubicle was invented because of problems we still face today: "information overload, employee productivity, and organization." And to fix this, the layout of offices needs to change.
Collaboration is a necessity in today's world.
This is a truth that Hera Hub has thrived on.   The trend is confirmed by the hundreds of coworking spaces popping up all over the US and abroad.
The Collaboration Commons is being defined as the next generation of offices. This type of layout allows and promotes collaboration, very similar to what Steven Jobs did for the Pixar HQ that we discussed in our last post.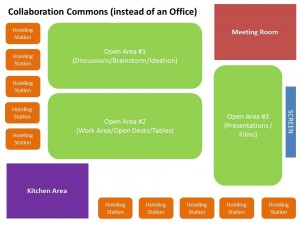 The Collaboration Commons is simply another version of Hera Hub, although I must say that it is not nearly as pretty and exciting as Hera Hub is with all our wonderful members! Whichever the venue the world is finally realizing that working together is so much better than working alone. Felena, Hera Hub's founder, just happened to realize it sooner.